Pumpkin Picking in Gloucestershire
Published:
Categories
Pumpkin Picking in Gloucestershire
Pumpkin Picking has created a wonderful tradition in our household and every year, we look forward to donning the wellies, heading out into the pumpkin patches, following the trails and ending the day with gorgeous photos, enormouse pumpkins and hot choclolates! In additon to finding the BIGGEST pumpkin, we have set ourselves the challenge to try out all of the local Pick Your Own pumpkin patches and have a photo in each! We'll let you know how we get on, in the meantime here is the ultimate list of Pick You Own Pumpkin Patches and Trails, in Gloucestershire:
Let's Kick off with:
Primrose Vale know how to do Halloween for the whole family, not only can you book to pick you own pumpkins, but you can also book to take the little one's on a Spooky Halloween trail and win a price at the end – always a win win in our opinion! There are two trails, they are set up to cater for preschool children and school age children, from experience, my two have done both in the past and loved them so much!
Please bear in mind, when visiting Primrose Vale you will need to book in to the 'Halloween Farm Trail' and the 'Pick your own Pumpkin', which is across the road from the farm shop. Wellies are a must and pushchairs may not be suitable for the Pumpkin Picking part of the day. Once you have picked your pumpkins and earned your treat at the end of the trails, why not grab a coffee, and let the little one's play in the brilliant park – it even has a real-life Ford Ferguson Tractor! Primrose Vale is a regular for us and we can not wait to be back, this year.
When: Tuesday 24th October – Sunday 5th November
Cost:
Trail - Adults £3 Children £6 (off peak discount available)
PYO - £3 per person – Cost of PYO ticket is redeemable in Pumpkins!
Location: Bentham, Cheltenham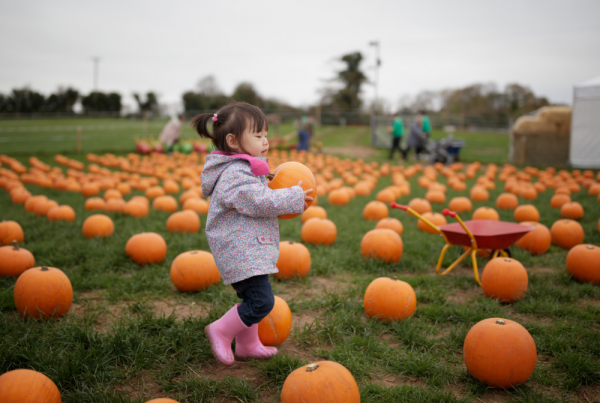 Elm Farm are opening their 'Pick your own Pumpkin' patch again this year and we cannot wait! If you want to immerse yourself in a true Pumpkin Patch then Elm Farm is your go-to. Plus, you may even be lucky enough to still be able to pick your own sweetcorn.
Get the family geared up, don the wellies, and get picking! Elm Farm are open on set days so please see below to make sure you head down there on a day they are open.
There is loads of parking, it's free to enter and (top tip) . . . why not head past Wholly Gelato on the way home to pick up an icy treat – if your willing to brave the cold!
When: Saturday 7th & Sunday 8th October, Saturday 14th & Sunday 15th October half term 21st October - 31st October
Cost: Free to enter, cost will be per pumpkin
Location: Elm Farm, Gloucester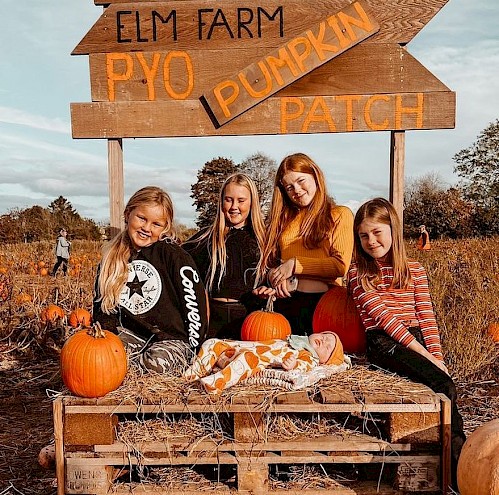 Now that the sunflowers have bloomed and that season is over, Priory Farm has a super quick change into Pumpkin Picking! Opening on the 28th October you will be able to put those wellies on, head out to the Pumpkin Patch and choose the best pumpkins. Priory Farm are also providing a coffee and cake van to keep everyone warm and happy, plus not only that, you can combine the Saxon Barn Market with a visit to the Pumpkin Patch on the 29th October - All the autumnal feels!
When: Saturday 28th October – 31st October
Cost: Free to enter, pumpkins are chargeable
Location: Priory Farm, Leonard Stanley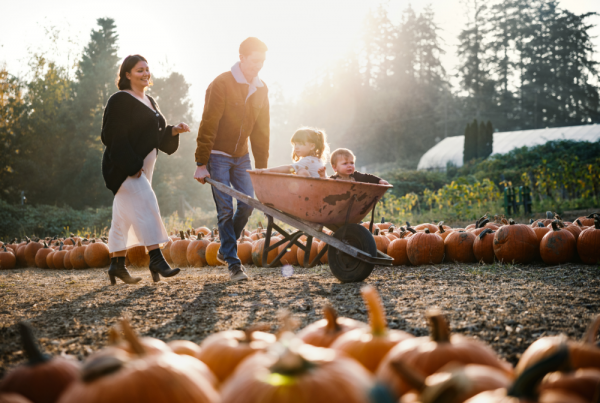 Hayles Fruit Farm are due to open up their Pumpkin Patch this year for Pick Your Own Pumpkins and a Spooky Trail. The great news is that there is no need to book, so you can rock up as an impromptu jaunt or gather your friends, get dressed up and head out into the fields to create those wonderful memories – Don't forget to bring your camera
Just to note the Halloween at Hayles will be open Tuesday 20th October to Tuesday 31st October (not open on either of the Mondays!). Fancy a coffee and juice for the little ones – No worries – Head to the tea room, where they are serving up delicious lunches, coffee and treats.
When: Friday 20th October – Tuesday 31st October
Cost: Free to enter the PYO patch, pumpkins are chargeable. Trial sheets are £3 per child with a treat at the end.
Location: Winchcombe, Cheltenham
Want to make it a full day out – Why not head to Sudeley Castle's 'Halloweak' event – Click here to find out more!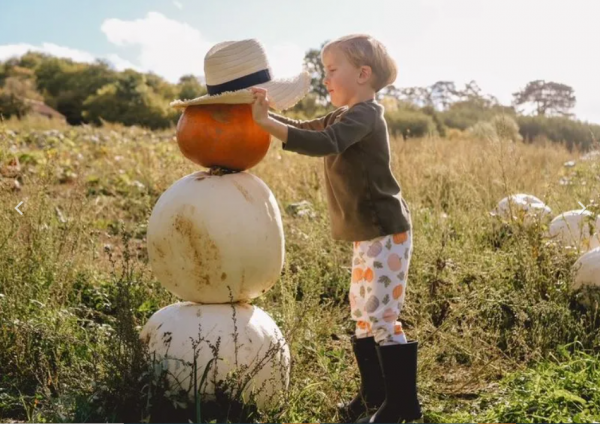 Get your wheelbarrows ready, it's time to pick those Pumpkins at Eastington Farm. The Patch will be open from Saturday 14th October and you will need to book your time slot, plus please note that a £1.50 charitable donation will be taken at the time of booking, it is going towards the brilliant Trussel Trust, a very worthwhile charity working towards ending UK hunger. Wheelbarrows are available to take into the field, it will be muddy so don those wellies, there is also a The Café bar and Farm shop to sit back and admire your perfect pumpkins!
When: Saturday 14th October – 27th October
Cost: £1.50 per person (under 2's and dogs are free), £1.50 charitable donation applied. Pumpkins are chargeable
Location: Eastington, Stonehouse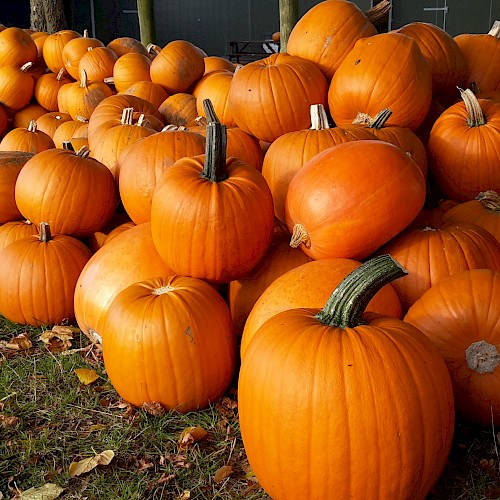 The Pumpkin Patch at Apperly Hall Farm
Apperly Hall Farm have set themselves apart this year by not only providing you with Pumpkin's to pick - and can we just add - of which there are 7 varieties! They as also temping us with a Halloween Trail, face painting and pizza! That's right, if you time your visit right, you could please everyone in the family all at once, it's not everyday you can say that. There will be Halloween themed photo opportunities, a bale mountain, hot chocolates and lots and lots of Pumpkins! Bring the wellies and a pencil for the trail! Check the Apperley Hall Farm website for more details!
When: 7th -31st October 10am-4pm (plus some after school hours)
Cost: £4 (plus £0.50p booking fee) per car (it doesn't matter how many are in the car). Pumkpins are chargable
Location: Apperley Hall Farm, Apperley, GL19 4DR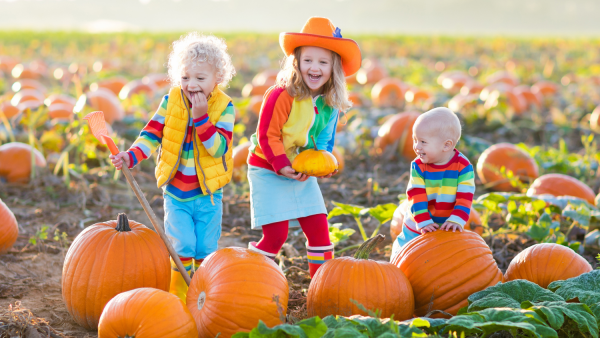 Cotswold Farm Park Pumpkin Patch
If you are looking for a whole day out, with pumpkin picking, Halloween activities and trails plus to spend the day on a farm then the Cotswold Farm Park Pumpkin Patch is a good place to go. Stroll through the charming patch, where thousands of bright orange carving pumpkins create a sea of adorable opportunities. Carve your masterpiece, dive into the carving zone! Carving kits and friendly assistants are at the ready, turning your chosen pumpkin into a work of art. Members carve for free, and for a small fee of £3 per person, everyone can join in the carving fun.
The site is wheelchair accessible and dogs are welcome.
When: 6th - 8th Oct 2023, 13th - 15th Oct 2023, 20th - 22nd Oct 2023, 26th - 31st Oct 2023
Cost: Pumpkin Patch is included in admission to the Farm Park – Adults £12.95weekday, £13.95weekends, Child (4yrs-15yrs) £11.95weekday, £12.95weekends, Toddler (2yrs-3yrs) £8.95weekdays, £9.95weekends.
You are able to just go to the Pumpkin Patch only, you will need to book tickets:
Adult: £12.95
Child: £11.95
Toddler: £10.95
Location: Guiting Power, Cheltenham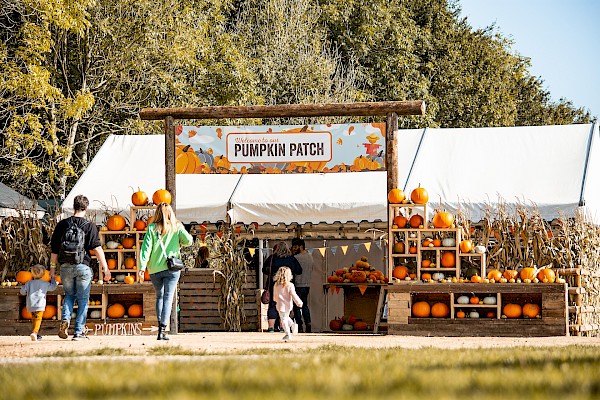 Hand's up who loves Halloween? Yeah, we do too, and we love heading to Over Farm Spook Yard for our Halloween Day out, and trust us, it is a full day out, you will need to get there early if you are to get everything crammed in, plus your little ones won't want to leave! Over Farm goes above and beyond when it comes to Halloween, and this year is no exception. Come and spend the day at Over Farm (and evening if you dare??), you will not be disappointed. Here is a run down to what you'll find at Over Farm's Spook Yard this year:
Hilarious Live Shows, Fancy Dress Competitions, Monster Mash-Up Disco, Devilish Woodland Walk, Corn Cannons, Tractor Rides, Scrapyard Play, Monster Duck Race, Jumping Pillows, Food ad Drinks, Halloween Crafts (pay extra), Facepainting (pay extra), Mini golf, Barnyard Play, Quad Trains, Maize Maze, Animals Trail and Pumpkin Foot Golf – Ooooof and top it off you can Pick Your Own Pumpkins! Make sure you book your tickets as these normally go FAST!
When: Saturday 28th October – Sunday 5th November
Cost:
Entry Tickets: Adults £12.99, Children £12.99, Babies Free (these charges are early bird prices and babies are classes as those who are not able to walk independently.
PYO Tickets: From £2-£6 to enter – cost of pumpkins picked are additional
Location: Over Farm, Gloucester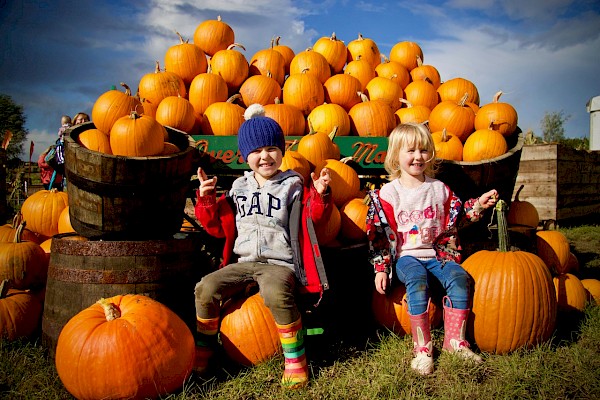 Cattle Country Pumpkin Patch
Grab your wellies (strongly recommended!) a wheelbarrow and pick your perfect pumpkin at the Cattle Country Pumpkin Patch. Plus capture those perfect autumnal Pumpkin Patch photos in the Pumpkin Photo booth! This is another great day out to combine the pumpkin picking and a half term day out!
When: Saturday 7th October – Tuesday 31st October
Cost: Entry to the PYO patch is included in the ticket price, pumpkins are chargeable – Children 1yrs-3yrs £13.50, Children 4yrs-17yrs £16.50, Adults £12
Location: Berkeley Heath Farm, Berkeley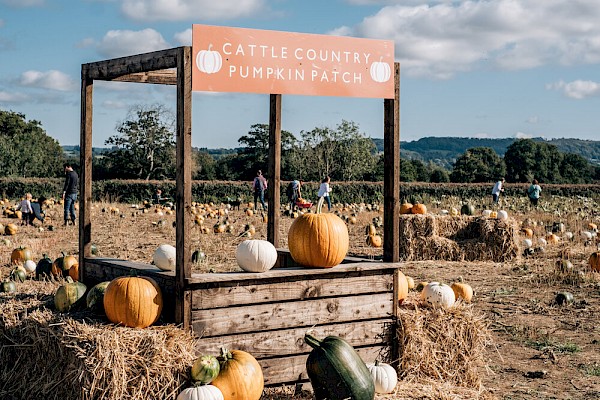 ---
We hope this Pumpkin Picking in Gloucestershire article has given you some ideas and inspiration for fun things to do together.
And if you're looking for more ideas to keep the kids busy over half term, have a browse of Cheltenham Rocks for walks, parks, places to visit and more!