Beaches, Splash Pads and Lidos near Cheltenham
Published:
Categories
There are plenty of places, just a short drive away, where you can cool off on hot days. We've rounded up a selection of beaches, lidos, and splash pads close to Cheltenham that make fantastic family outings during the school holidays.
So, what are you waiting for? Pack a picnic, your beach towels and suncream and get ready for a fun-filled day out in the sun, only a hop, skip and a jump from Cheltenham.
---
Beaches
Cotswold Country Park and Beach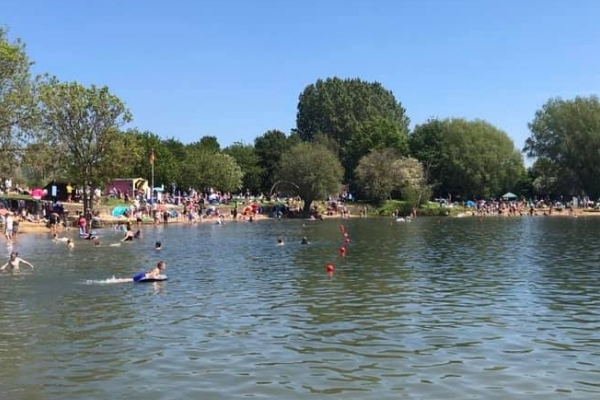 What to expect: Home to the largest inland paddling beach in the UK, Cotswold Water Park near Cirencester is a brilliant day out for all the family. Kids will love playing with their buckets and spades on the sandy beach or splashing in the swimming lagoon, and there's also a dedicated Children's Beach Lagoon, along with adventure playgrounds and junior climbing walls.
Children age six and over will be in their element bouncing around on the giant Aqua Adventure inflatable course, which costs £15 per person. There's also the option to hire pedalos and rowing boats, plus there's kayaking and stand up paddle boarding suitable for children age 11 and over.
Drive from Cheltenham: Around 30 minutes
How much?: Peak admission from 10 July to 12 September, is £16 for a car of up to five people and £20 for an MPV with six to eight people. It's advisable to pre-book admission to guarantee entry to the popular attraction, especially during the summer holidays. Admission has to be booked prior to booking any additional activities, with details of all costs on its website.
Find out more: cirencesterrocks.co.uk/listings/cotswold-country-park-and-beach/
---
Weston-super-Mare

Image credit: Visit Weston-super-Mare
What to expect: Enjoy a traditional seaside expedition to Weston-super-Mare, one of the original British coastal resorts that remains a popular haunt with visitors near and far. One of the longest and naturally occurring beaches in the UK, visitors can expect to sink their toes into golden sands, walk along the iconic pier or ride of one of the famous donkeys.
There are also several nearby beaches that are worth checking out on your day-trip to Somerset, including Uphill Sands and Sand Bay, which is often referred to as Weston-super-Mare's hidden gem. There's plenty of parking, along with tea rooms and lovely dog-friendly walks if you want to take your four-legged friend with you.
Be sure to check out Weston-super-Mare Rocks for lots of beach ideas, plus loads more suggestions of things to do on your visit.
Drive from Cheltenham: Around an hour
How much?: Free of charge
Find out more: westonsupermarerocks.co.uk
---
Splash pads
Cattle Country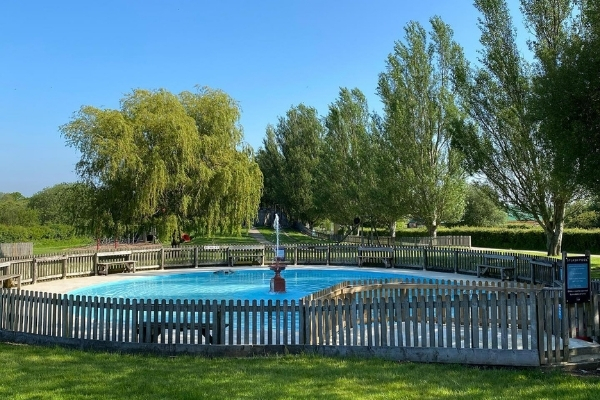 What to expect: Not only will children love meeting the farm animals at Cattle Country, there's also a brilliant Splash Pool that is perfect for cooling down on hot summer days. The family-friendly attraction, located in Berkeley, has so much to keep all ages entertained for the day, with a beach barn, adventure playgrounds, trampolines, mini golf, a boating lake, and lots of picnic areas.
Head to the Animal Barn and Farm Trail to say hello to Cattle Country's animals, which include pigs, goats, sheep, donkeys, and of course cattle, while there are also two huge indoor play barns that are ideal for sheltering from the sun or rain.
Drive from Cheltenham: Around 40 minutes
How much?: Admission is £13 for adults, £14.50 for children age four to 17, £10 for toddlers age one to three, and babies under one are free.
Find out more: cattlecountry.co.uk
---
Slimbridge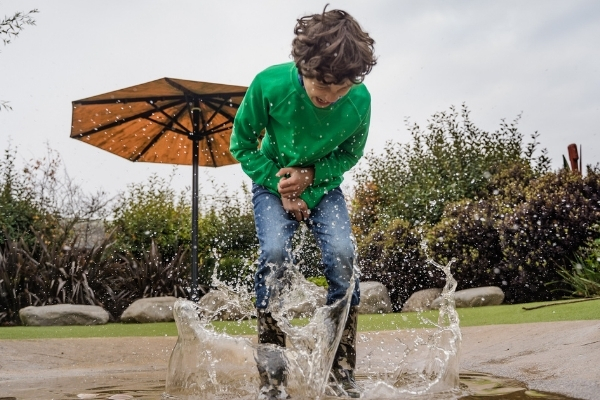 What to expect: Kids will love splashing about at Slimbridge's Welly Boot Land, which offers plenty of water play fun, come rain or shine, during your visit. Slimbridge is home to 100 acres of wetland paradise and a wonderful opportunity to discover a diverse world of wildlife that includes flamingoes, otters, geese, and a whole range of wading birds that pass through on their migrations.
From the end of May to October there's also the chance to enjoy a canoe safari along a one kilometre trail. The canoes can take up to three people, including children over three, and you can look out for water voles, dragon flies, warblers and ducks while taking in the beautiful scenery.
Drive from Cheltenham: Around 30-40 minutes
How much?: Admission costs £14.50 for adults, £8.40 for children aged four to 16, with children under four free. Canoes cost £10 to hire.
Find out more: wwt.org.uk
---
Abbey Park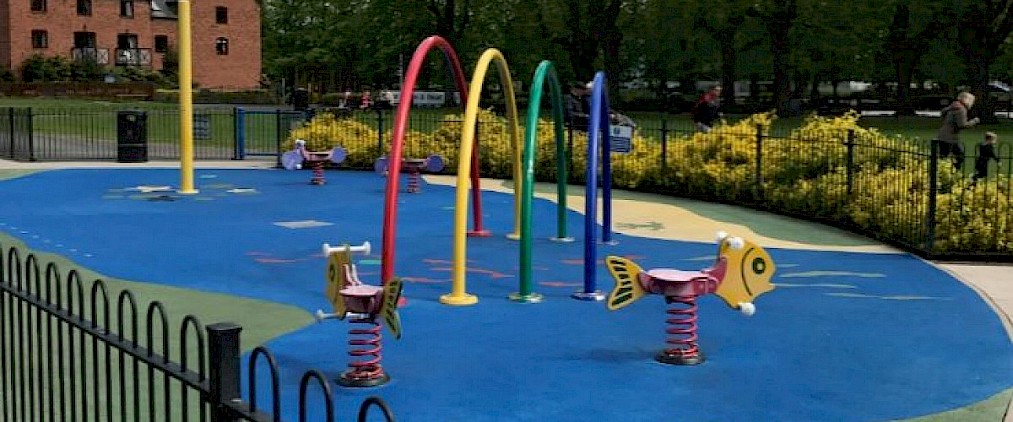 What to expect: Abbey Park in Evesham is a beautiful park with a huge play zone which features an underground bank slide, a trampoline, basket swing, climbing units, wide slide, and a huge sand play area. This fantastic free park gets even better in summer when the water fountains are turned on.
The water fountains are a favourite and little ones are able to push pads to shoot water fountains around a wet-play area.
Drive from Cheltenham: Around 30 minutes
How much?: Free
Find out more: cheltenhamrocks.co.uk/abbey-park
---
Lidos
Sandford Parks Lido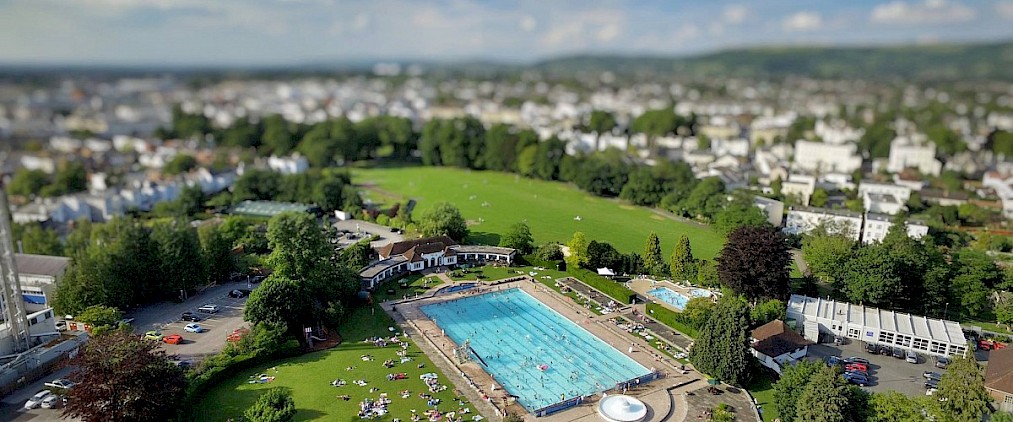 What to expect: Sandford Parks Lido is one of Cheltenham's most popular attractions. With a heated outdoor 50-metre main pool with 5 double width lanes. There is also a heated children's pool, play area and cafe.
There are family friendly Open Swim Sessions available to book, as well as lane swimming. Pre-booking is currently required.
How much?: Adult entry is £7, while children from age 5 are £5 and under 5's are free of charge.
Find out more: cheltenhamrocks.co.uk/sandford-parks-lido
---
Cirencester Open Air Swimming Pool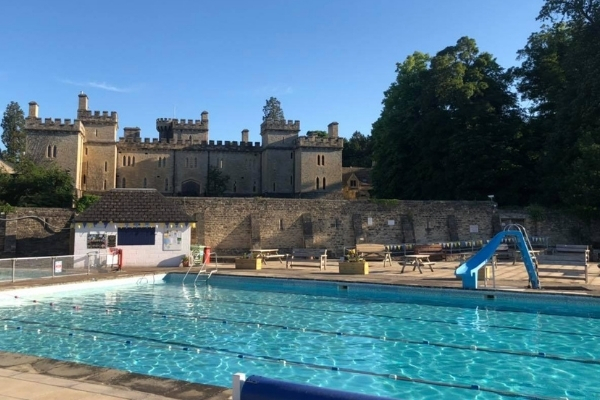 What to expect: Cirencester Open Air Swimming Pool is a lovely spot to enjoy an alfresco swim during the summer months. The historic pool, which is fed by natural spring water, dates back to 1869 and has impressive view of Cirencester Castle that you can take in as you swim laps.
The water is heated to an average of 27°C and has a slide, and there's also a children's paddling pool and sun bathing patio where you can enjoy post-swim snacks. There are dedicated 90-minute Family Swim Sessions, along with drop in sessions and lane swimming.
Drive from Cheltenham: Around 25-30 minutes
How much?: Adult entry is £5, while children aged four to 17 are £2.50 and infants are free of charge.
Find out more: cirencesterrocks.co.uk/listings/cirencester-open-air-pool
---
Bathurst Pool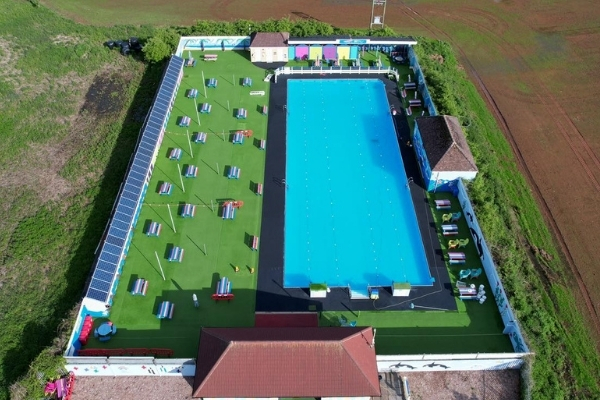 What to expect: Head to the Forest of Dean for a summers day out at Bathurst Pool in Lydney. The 38-metre pool, which first opened in 1920, is surrounded by top quality artificial grass and has colourful picnic tables, sunshades, sails and bunting, along with a shop for snacks.
The public swims are held daily from 12pm to 5pm until 5 September 2021, with no pre-booking required, although they may reach capacity on hot days and operate a one-in one-out system. Opening is weather dependent so it's worth calling before making the journey.
Drive from Cheltenham: Around 45 minutes
How much?: Adult entry is £3 and children aged three and over are £2. Cash and cheque payments only.
Find out more: bathurstpool.co.uk
---
Chippy Lido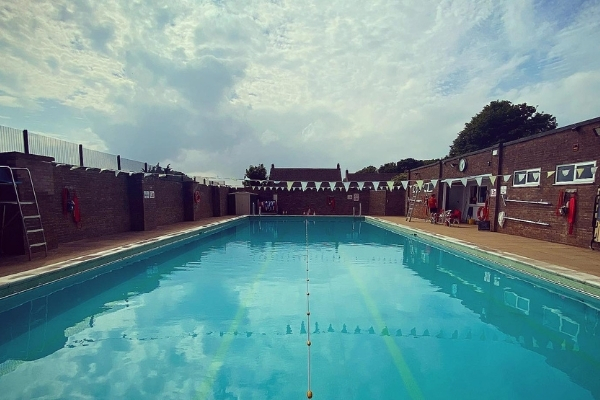 hello
What to expect: Since opening in 1970, Chipping Norton Lido, affectionately known as Chippy Lido, has been an important part of the community spirit of the Cotswold town. The pool is open come rain or shine and all swims must be pre-booked online, with dates for sale released up to 14 days in advance.
During the two-hour family swim sessions there are no lane ropes so you can have freedom to splash about and the toddler pool is also open. There's also an on-site cafe selling hot and cold drinks, hot food, snacks and ice creams.
Drive from Cheltenham: Around 40-45 minutes
How much?: During peak season (holidays and weekend family sessions), adults are £10, children three to seven, £3.50, children eight to 17 £5.50, and OAPs £8. Off peak (adult and early bird sessions and weekday family sessions) are £7.50 for adults, £2.50 for children three to seven, £4.50 for children eight to 17, and £6.40 for OAPs.
Find out more: chippylido.co.ukchippylido.co.uk