Places to Meet Father Christmas in Cheltenham
Published:
Categories
"Holiday's are comin'!" Perhaps it's the long white beard, or snuggly red velvet suit, or simply because he gives out presents; whatever the reason - we can't get enough of Father Christmas! The evenings are drawing in and we're counting down the days until we see his presents under the tree; with all his gift-giving and time-travel, it's a miracle he's able to make it to town at all!
Cheltenham Rocks has on good authority (from the elves) where 'Santa Claus', 'Saint Nick', or 'Papa Crimbo' will be stopping for 'elfies' and deliveries in town this year. "He's making a list, he's checking it twice" and he's found out that Cheltenham children are on his nice list this year! So, if you still haven't got your list of present requests in, now you can! You can find some of Santa's pre-Christmas appearances below. And for our full list of events, hit the Christmas Events in Cheltenham button on our home page.
Where is Santa is stopping in the run up to the big day for your Christmas calendar scheduling pleasure? Letters at the ready!
Places to see Santa in Cheltenham 2023
Let's wrap up warm and head off to see the dream team:
The Brewery Quarter Santa Visits
Meet Father Christmas in the Brewery Quarter this December. He'll be visiting on the following dates:
2nd December – Mr Mulligans 11am, or at Brewhouse Kitchen for lunch at 12:05.
9th December – Creams at 11am, or coffee and cake at Cineworld at 12:15
16th December – Botanist 11am, or bowling at Hollywood Bowl at 12:05.
17th December - Play Farm at 11am, or lunch at Brewhouse Kitchen at 2:30pm
Full details of events and booking info here
---
Great news... Father Christmas will be visiting Dinky Street again this Christmas!
Dates confirmed are Thursday 21st, Friday 22nd and Saturday 23rd for all four sessions on each day.
There's no need to queue whilst you wait to see him because visiting takes place during a normal play session and also includes a present for your little ones.
When: Thursday 21st, Friday 22nd and Saturday 23rd December
Where: Dinky Street Bishops Cleeve
Cost: £14.95 per child and includes the usual free adult space per child too.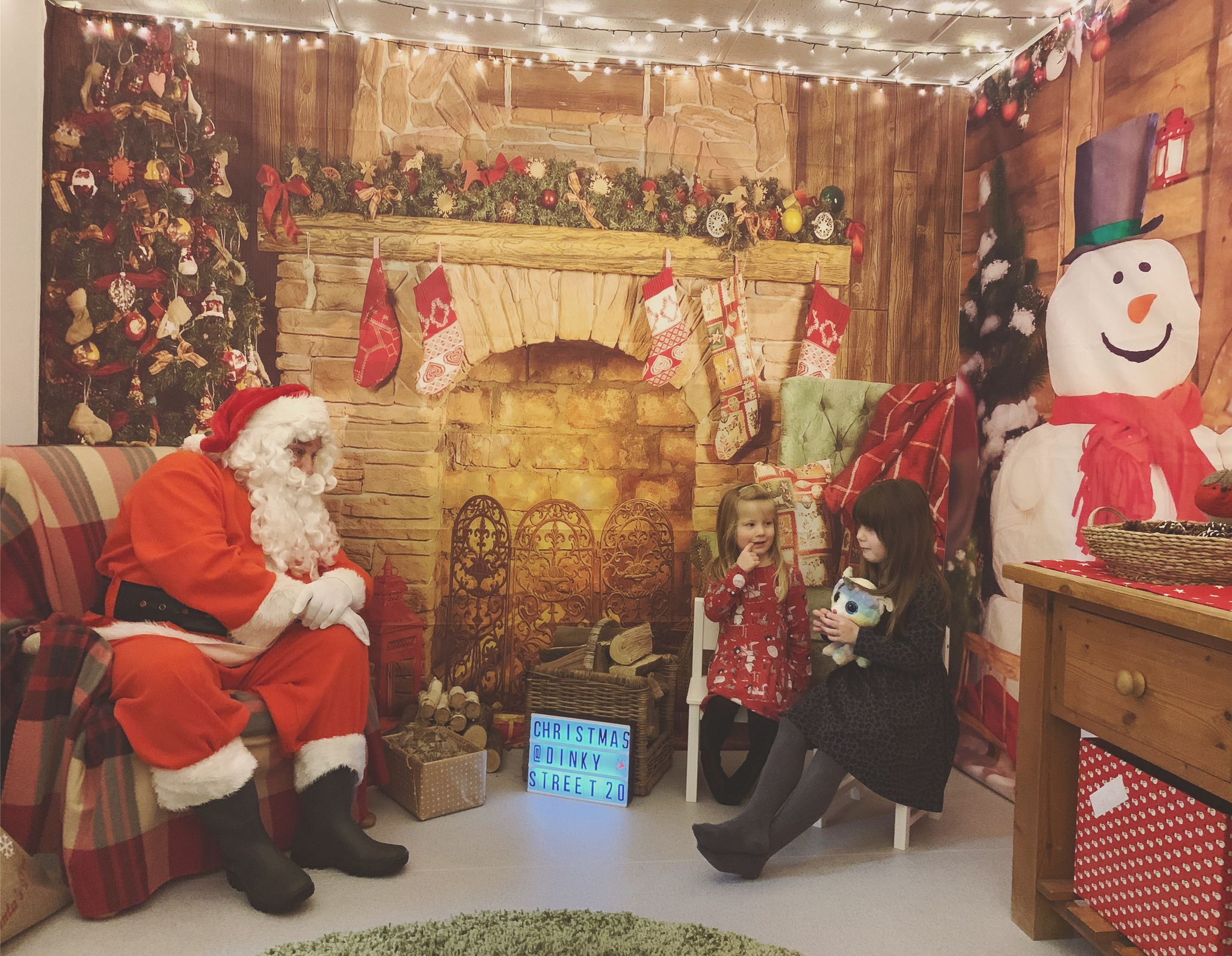 ---
With the festive season about to enter the home straight, The Christmas Meeting brings joy and excitement for all, this two-day meeting is a highlight of the Christmas racing calendar and kick starts the festive sporting season. Off the track a Christmas Extravaganza-themed raceday including Santa's Grotto on Saturday, and Got2Sing Choir entertaining racegoers with Christmas Carols across the weekend.
SATURDAY CHRISTMAS FAMILY FUN:
With Christmas Extravaganza themed family fun including meeting Santa and his elves in Santa's Grotto. Santa's elves will be there to help with your Christmas crafts including - letters to Santa, making a magical Christmas wish to leave on the special night and designing snowflakes. This is free to all Club/Tatts racegoers and don't forget under 18's are free! The festivities don't stop there, as a living snow globe will glide gracefully through best mate plaza, alongside Got2Sing Choir entertaining racegoers with Christmas Carols across the weekend.

When: 16th December 2023
Where: Cheltenham Race Course, Cheltenham
Cost:
Adults - £27.50
Under 18's Free
---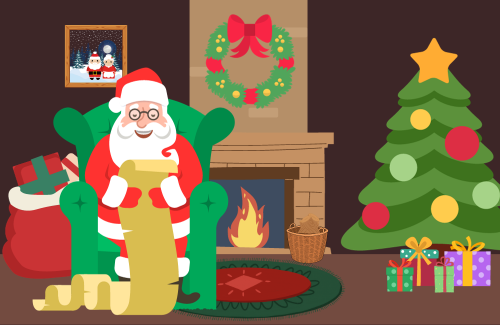 Set amongst the beautiful backdrop of Batsford Arboretum, children and families can come and meet Father Christmas, where they will meet him in groups of 6, where they can say hello, have a photo and receive a gift. The sessions will be 30minutes each. Why not grab a cosy hot chocolate or coffee after your visit.
When: 2nd, 3rd, 9th, 10th, 16th & 17th December 2023
Where: Batsford Arboretum and Garden Centre, Batsford, Moreton-in-Marsh, Gloucestershire GL56 9AT
Cost: £10 per child. Only Children need a ticket.
Click here for more information
---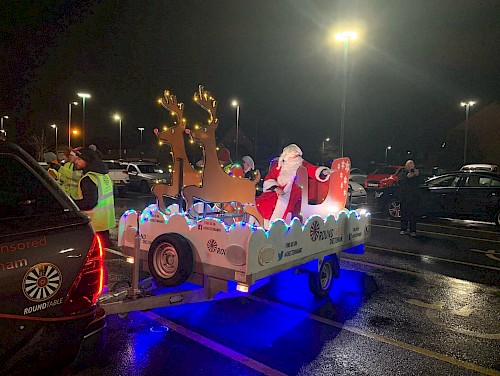 Cheltenham Round Table's Santa Sleigh
Get wrapped up warm and come join the Cheltenham Round Table as they (and Father Christmas) cruise to Cheltenham's surrounding areas again this year; familiar spots in Up Hatherley, Naunton Park, Charlton Kings, St Marks, Benhall and Leckhampton. Santa and his helpers will be visiting local residents and collecting for local good causes. The route is subject to change and the team will try to stick to the published route, however due to traffic, weather or number of volunteers on the day the route may change.
When:
Monday 4th Dec - Morrisons Up Hatherley
Tuesday 5th Dec - Charlton Park and Old Bath Road
Wednesday 6th Dec - Old Pats, Everest Road and Charlton Kings
Monday 11th Dec - Hatherley Inn, Hatherley
Tuesday 12th Dec - National Hunt Benhall
Wednesday 13th Dec - Sue Ryder Leckhampton
Thursday 14th Dec - Spring Bank/Hesters Way
Time: Santa will set off every day at 6pm!
Cost: Free to attend - donation kindly asked to raise for a good cause.
---

This wonderful event is widely recognised for being the best annual late-night Christmas shopping evening in the Cotswolds. Independent shops, galleries, restaurants and pubs will be throwing open their doors in a warm welcome to all for one night only, and all are welcome to come along and enjoy the festive feeling! As well as over 50 market stalls and child-friendly entertainment, Father Christmas will make a special appearance, guiding his brightly-lit sleigh through the town, before appearing with his Elves in his grotto at the Guide Hall, with all proceeds supporting local charities in Winchcombe.
When: 8th December 2023 5pm - 8pm & 9th of December 2023 10am - 5pm
Where: Winchcombe, Gloucestershire
Cost: Free to attend
---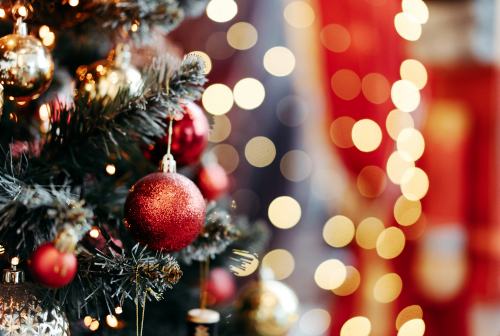 This wonderful community led extravaganza will see Santa and his reindeer spreading merriment and cheer, as choirs tunefully perform festive carols around the tree. The Fayre, which is organised by the Parish Council, is a very popular local family event which involves a range of gift and food stalls and switching on of the Christmas lights. Last year's entertainment included the Coady Crew, a visit from Chase (Paw Patrol), early Christmas shopping opportunities at the Stanton Room and a chance to visit the grotto! This year, Olaf and Elsa will be greeting the crowds! Scarrotts Funfair will provide lots of fun with 2 Carousels, the Fun House and some game stalls to play too.
When: 1st December 2023 3pm - 6pm
Where: Church Piece, Charlton Kings
Cost: Free to attend
---
Come along and see Santa in his magical grotto and receive a special gift from the man himself. Then head to our festive Kingfisher Kitchen and enjoy a delicious full English breakfast.
Afterwards, wrap up warm and make enchanted memories as you soak up our seasonal wildlife and enjoy an adventure-packed day in our winter wonder-wetlands.
We'll have festive activities throughout the day so yule have lots to enjoy after seeing our special guest, from Christmas crafts to posting a letter to the North Pole in our Slimbridge post office.
Santa and his swans are on their way and he would love to see you there!
When: Saturday 9, Sunday 10, Saturday 16, Sunday 17, Thursday 21, Friday 22 and Saturday 23 December.
Where: WWT Slimbridge, Bowditch, Slimbridge, Gloucestershire, GL2 7BT
Cost:
Adult: £9.95* – Includes a full English Breakfast
Child: £12* - Includes a visit to Santa's Grotto and a gift (for participating child). Includes a full English Breakfast.
Under 4years – Free - If you do not wish for a child under 4 years to receive a gift you can select the free under 4s ticket. Toast and orange juice can be purchased from the restaurant for an additional £3, or a child's breakfast for £5.
*Please note that you will still need to purchase an admission ticket as well.
Click here for more information
---
Secure your daytime visit with Father Christmas in his grotto, offering full access to the Christmas Experience on the Farm Park.
Enjoy decorating gingerbread, bringing your own soft toy to life and choosing your own present from the elves workshop.
You'll also get Farm Park entry to meet the animals and make the most of our indoor and outdoor play, all included in one price.

When: 24th - 26th Nov 2023, 1st - 3rd Dec 2023, 8th - 10th Dec 2023, 15th - 17th Dec 2023, 20th - 23rd Dec 2023
Where: Cotswolds Farm Park
Cost:
Adult + 1 Child - £59.95
Child Ticket - £49.95
Baby (0-1yrs) – 19.95
Click here for more information
---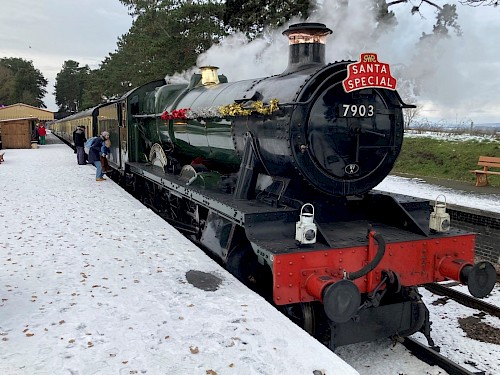 The whole family will be able to enjoy the usual refreshments including the railway's famous and highly recommended mincepies; additionally adults also have the option of a free glass of mulled wine. If you are still feeling peckish our griddle will be ont he platform at Winchcombe selling baps filled with bacon, burgers or sausages. There will also be the opportunity to buy take-away beer and additional boxes of delicious mince pies to take back with you before re-joining the trainfor the trip back.. Also keep an eye out for the singing penguins!
Travel by steam-hauled train from Cheltenham Racecourse to the North Pole (at Winchcombe) to meet Santa and then back to Cheltenham Racecourse.
Walk through a Christmas fairyland and visit Santa; lots of twinkling lights and great presents.
Complimentary mince pies, hot and cold drinks, biscuits and fruit in the station coffee shop, seating available in a heated marque.
Top quality presents for the children.
Babies under 1 year old travel free and receive a nominal present only.
We have limited accessible facilities for those with disabilities on the trains. To ensure that there is space on your chosen train or to book a carer's ticket. Please telephone before booking 01242 621405
Large free carpark.
We regret that, due to a number of incidents, dogs are not permitted the Santa Specials. This does not apply to assistance dogs.
You will travel from Cheltenham Race Course to 'The Northpole' where you will spend 80 minutes, before returning to Cheltenham Race Course Station.

When: November 25, 2023 to December 23, 2023 - 9:30 am to 4:00 pm
Where: Cheltenham Racecourse Station to Winchcombe Station
Cost:
Adults: £25
Child: £25
Child under 12months: free
Click here for more information!
---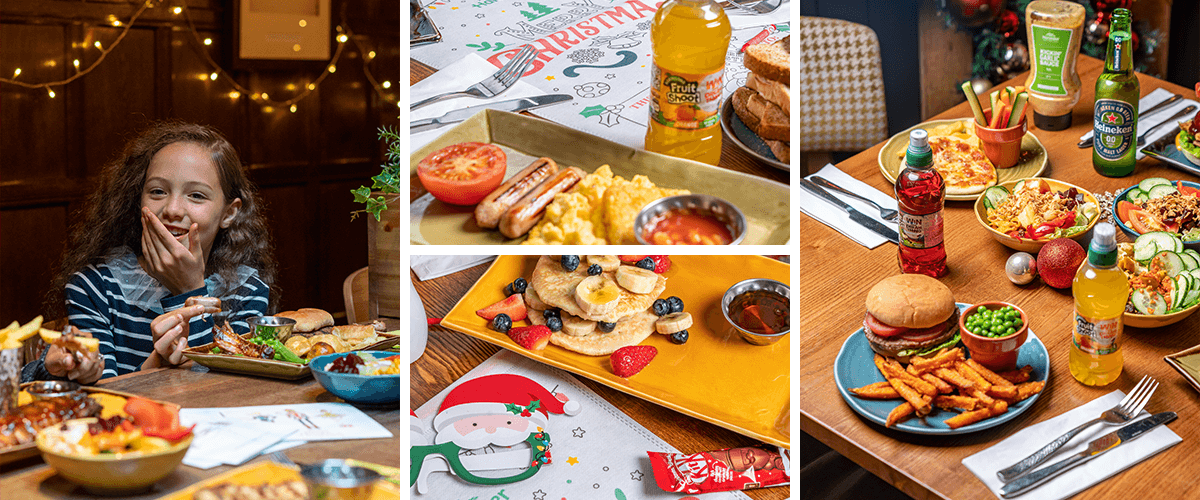 Breakfast with Santa at The Redgrove Pub

Treat the kids to the most magical Christmas surprise and what could be more exciting than Breakfast with Santa?! Santa's taking a break from his workshop again this year to enjoy a delicious breakfast with your little elves. Kids can enjoy a delicious breakfast, Fruit Shoot, chocolate treat, colouring in activities and a Santa goody bag at this festive family event for just £9.99* per child. Pick from the following dates, click the link to book and Santa will see you there!
When: 2nd, 3rd, 9th, 10th, 16th, 17th, 21st, 23rd, 24th December
Where: The Redgrove Pub, Hatherley Lane, Cheltenham
Cost: £9.99 per child
Click here for more information!
---
You can find lots more places to see and meet Father Christmas by browsing Cheltenham Rocks. Browse the website via our home page to find festive fun.