Ages:
All the family
Under 5s
School age
Venue:
Indoor
Cost:
Free
A blog from Hannah, Bertie and Lomie
I decided that a wet walk in Pittville Park was going to be the only solution for my 2 and 4-year-old to burn off some energy and give them a break from fighting with each other. I kitted the kids out in their waterproof gear and headed out.
We parked on Pittville Lawn close to the lake, but instead of heading straight to the adventure play area where I usually stand for hours playing "spot the child" and fending off requests for ice creams, we headed under the tunnel towards the other side of the lake in the direction of the Boathouse.
We took the path to the right, so the kids could have their fill of pooh sticks on the two little bridges over the stream. Following the path to the Boathouse where the kids enjoyed flying the plane in the café garden.
They climbed on the wiggly tree next to the café garden, and squirrel spotted on the way down to the beautiful Christopher Lisney sculpture bridge. We work our way across the bridge spotting all the sculptures and keeping our eyes peeled for the sneaky squirrel one hiding underneath.
Once across we hit the obstacle course of stepping stone rocks, and tree stumps. Not for the faint hearted on a rainy day and not totally age appropriate for my two, but does that stop them? Not a chance! I use it as a bingo-wings workout for me, bouncing little Paloma from one rock to another whilst Bertie goes on ahead.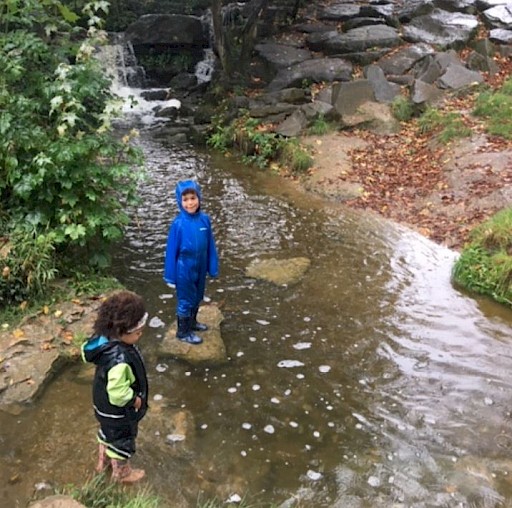 Then it's time for a rest. Well for me. It's the playpark at far end of the lake, next to Leisure @. Bertie takes particular pleasure if the slide is wet, in flying down the slide (and across most of the ground) in his waterproof suit.
As you curve around the lake at the top it filters into a lovely little stream which my two had a great time paddling in and following up to the waterfall and the rock garden. If there hasn't been too much rain and the water isn't too fast flowing it is a great place for the kids to play and splash around.
We follow the lake around, so the water is now on our right and back down to the sculpture bridge and over it again (in a figure of 8) and back down opposite the Boat House café on the opposite side of the lake. By this time the kids are flagging so we're a much quieter gang wandering through the tunnel and back to the car, so much so they don't even try and push me for a play in the adventure play area!
The perfect way to kill an hour or two on a rainy or not so rainy day.
Hannah, October 2018
Opening Hours
| | |
| --- | --- |
| Monday | Open |
| Tuesday | Open |
| Wednesday | Open |
| Thursday | Open |
| Friday | Open |
| Saturday | Open |
| Sunday | Open |
Contact details
We aim to keep the information on Cheltenham Rocks accurate but if you have noticed an error please let us know
Suggest an edit