Rocking Cheltenham with: Cheltenham Problems
Published:
Categories
With our multiple Britain in Bloom accolades, rolling hills, racing pedigree and fancy spa waters, Cheltenham can oft be in danger of getting a bit, well, up itself.
Enter Cheltenham Problems, a mystery, probably un-caped crusader, who's giving us Cheltonians an outlet to laugh at ourselves and some of the more amusing aspects of one's day-to-day life in Cheltenham.
He's taken the time out from a busy schedule of grafting to bring aubergines back to Cheltenham (did we mention this tireless campaign work?) for a very rare interview with Cheltenham Rocks. You will never enjoy a burrito in the same way again...
(Note - this article is a little fruitier than the usual articles on here, so if Alexa or Siri is reading it for you, maybe hit the mute...)
| | |
| --- | --- |
| Name | Cheltenham Problems |
| Number of children | 74 |
| How old are they? | U, PG and 12A |
| How long have you lived in Cheltenham? | Long enough to apparently warrant running pages called 'Cheltenham Problems' |
| Occupation | Idiot |
Hi Mr Problems… if we can call you that?
You may, hello. I've been called worse. "You're not funny" (twitter), "You've done this one before, get new material" (Facebook), "Please get off our lawn and put some clothes on Sir you're very drunk" (Cheltenham Bowling Club).
Your identity is a closely (wisely) guarded secret. But can you tell us one or two things about yourself and your connection with Cheltenham?
I'm familiar with the mean streets of Fairview. I have friends in Whaddon so watch your back you dinlo. I went to Stroud once, they're weird aren't they? Bar and Wok is better than Wagamamas. That's not about me but I just wanted to say it. My connection is poor but I'm on the case with BT to sort that out.
In spite of your internet woes your social updates have been a source of regular chuckles for us Cheltenham peeps for a couple of years now. What gave you the inspiration to start Cheltenham Problems?
Crushing loneliness. A misguided and inflated sense of one's own humour. Irritating local journalists. A proper use for this cape.
It looks great btw.
If you could pick your favourite of the 'Problems over the years, what would they be?
The way we had a Banksy for about a month but then it really brought out our best side by being vandalised, legally contested, concealed, and then eventually destroyed. It's what he would've wanted.
I was particularly proud of this infographic I made, if only because it captured literally the 9 weak jokes I have into one place.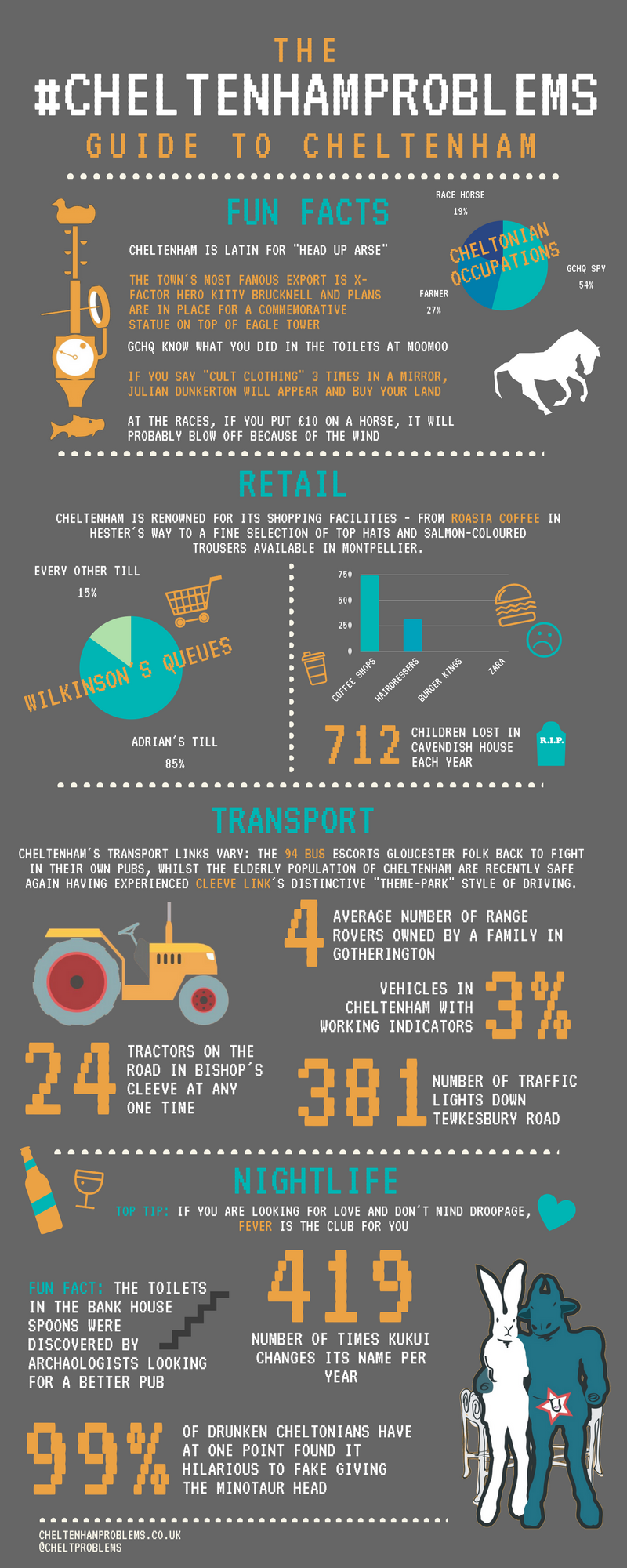 And I loved that Vengaboys video that did the rounds - like most of my posts it wasn't actually a 'problem' but I felt it captured a weird and wonderful moment in a Cheltenham night out perfectly, and there wasn't even a taxi rank scrap in sight.
Shortly after that a guy on Twitter started arguing with me that the clip was taken in Northampton. I told him he was wrong and pointed out the very obvious Cheltenham street signage visible in the clip, and then he blocked me, because that's how Twitter works. #NorthamptonProblems
What things do you wish Cheltenham did better?
I wish Cheltenham had better drivers, literally there's no happy medium between Maureen Rees and Nigel Mansell with Cheltenham's drivers (showing my age there btw #topicalreferences). Nobody drives properly, nobody indicates. I think the way that all our cars have been ravaged by potholes is punishment for collectively not being able to drive. So in a nutshell I think we could do transport better.
Oh and I wish I could still make a wish at the wishing fountain thing that was in the Beechwood. I used to try and cheat the system and wish for more wishes but it never worked and that's how you lose £20. Do you remember MVC in the Beechwood? What a shop. I wish that was still there too because I hear there's a roaring trade for CDs and VHS tapes.
I wish I knew where I was at any point when I'm in House of Fraser. #Narnia #WhosFraser
What is it about Cheltenham that never fails to make you smile?
Defiantly overthrowing the choice between pinto and black beans and getting both. The guacamole for an extra 30p. The heavenly combination of sour cream, lettuce and cheese. The clicking noise of the extra stamp on my loyalty card. Cradling the warm, aluminium-wrapped bundle of erotica in my shaking hands and slowly unwrapping its silvery foiled head, before plunging my teeth into its moist, braised pork tip. Crikey I've given myself a semi writing that. Is this a family friendly site? Paparritos. Paparritos never fails to make me smile.
Ummm, moving swiftly on... Cheltenham Rocks is all about helping people find great things to do locally, what's your favourite thing to do around town in your spare time?
Running around Montpellier with my pants on my head.
Avoiding interviews.
Finding 5 Ways To Tease Gloucestershire Live... And You'll Never Guess Number 3!
Drinking delicious spa water.
Trying to find a bar not owned by Julian Dunkerton.
Trying to find a pint for under a fiver. This is in many ways connected to my previous point.
A question we ask everyone... Any hidden gems you can share with us?
I lost an amethyst in Battledown once, it's yours if you can find it. (CR: *starts car*)
The Minotaur statue is somewhat synonymous with you, and local kids find it hilarious thanks to its…horns. Got any other hot tips on what to see for family laughs in Cheltenham?
I'd like to go on record that I do not encourage families to stare at animals genitals as a day activity in Cheltenham - that's how my Uncle got thrown out of Cotswold Farm Park.
For family laughs I highly recommend taking the kids down to Prestbury during race week to introduce them to family-friendly themes such as gambling, drinking until you can't see, and shooting injured horses dead. It's a lovely event isn't it?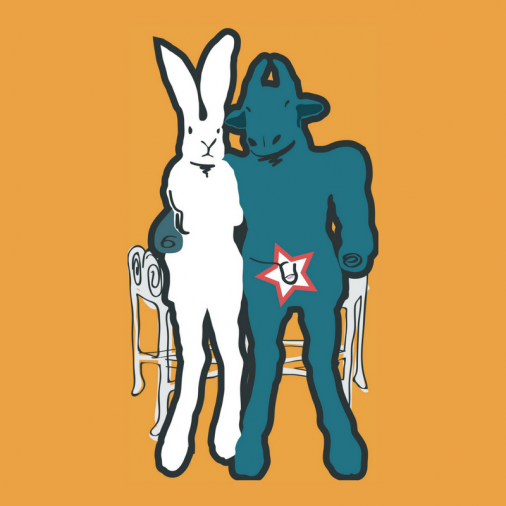 On a sunny day in Cheltenham, where might we find you if we had a clue who we were looking for?!
In my garden, and in that scenario I'd have to call the police. Why are you in my garden?
So you have a garden. Interesting...
What about the Cheltenham festivals… Which is your favourite and why?
Cheltenham has a festival for everything, however I didn't think much of Alex Chalk's Festival of Undeclared Campaign Spending. Ooh bit political that one. Just lost a big audience. Never mind. I really like the Food and Drink Festival. Top tip: fill up on all the free samples. Another top tip: you can't do the same thing in Waitrose because apparently "it's a supermarket not a buffet" and also I'm banned there now.
Any sporting events we should be getting excited about?
The Cheltenham 10k, also known as the trek to the Bank House Wetherspoons toilets. Don't think I've ever made that joke before. Ha ha. Because they're far away.
If you could relocate and start problem-spotting anywhere else in the world, where would you live?
I would move to Cheltenham in Pennsylvania USA because then I wouldn't have to change any of my usernames.
Finally, how about giving one resident of Cheltenham a moment of fame… who deserves the glory and why?
There's the obvious choices such as local legends Adrian in Wilkinsons, Billy in KFC and Steve in Dunelm (I don't know if there's a Steve in Dunelm, I just made that up).
But I'm gonna go with the folks who set up Cheltenham Guardians - what incredible work they do. They see people in an absolute state night after night and exist solely to ensure people get home safe and are protected from the vast array of knobs we have who can't handle a drink. How amazingly patient and kindhearted do you have to be to do that? If they'd been around with a sensible word or two when I was a Whippersnapper falling out Propaganda at Blush off my rocker on VKs I have no doubt that I would have eaten far less Turkish Delights and been saved from watching everyone's Aunt gyrating to I've Had The Time of My Life in Fever.
***
For more light-hearted digs at anyone and everything, vegetable campaigning or maybe to report a Cheltenham Problem you've spotted, head over and follow Cheltenham Problems on Facebook, Twitter or visit the website here.
Viva La Cheltenham Problems!