Ages:
All the family
Under 5s
School age
Venue:
Outdoor
Cost:
Free
Description
A blog from Steph of Steph Loves Honey
I've lived in Cheltenham for over 10 years and visited for shopping for over 20 years. I enjoy a nice walk and I love discovering new (to me, obviously, I'm not Christopher Columbus) places. So how have I managed to have never been up to Belas Knap before?

It's a place I've noticed and been interested in for as long as I've been driving past the sign but it's taken until now to actually get up there. We kitted Honey out in boots, waterproof trousers and coat and pointless gloves (which would be wet and filthy in about 10 minutes, note to self, must invest in some waterproof gloves for her) and off we went.

On checking the English Heritage website, it promises to be a short yet steep walk, taking in fields, woodlands and beautiful views. We were treated to all three and Honey collected loads of treasure (moss, feathers, wool and sticks before everyone rushes there to find their fortunes) along the way too.

There were lots of things to discover on the way up. Honey was excited to see SHEEP and was fascinated by a frozen water trough and a mole hill, she also mentioned that our friend's dogs would like the little dog gate by the stile. Ace sat in the sling and smiled a lot, especially when we walked through the trees, so I think he was having fun too!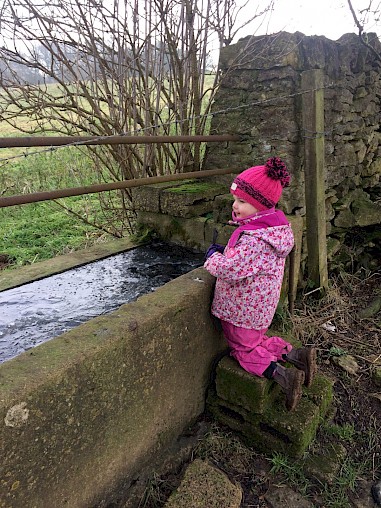 The long barrow itself is just over half a mile up the hill and is well worth the walk. I did manage to freak Honey out a bit by reading the information sign out to her and for a while, she was convinced that we were going to see a dead person or that she was going to die but once she got over that, she enjoyed exploring. There are burial chambers (caves) to sneak inside, slopes to climb and slide down and from the top, the view is even more beautiful.

If you're local and like me, have never been up, I'd highly recommend it on a sunny day. It's definitely not buggy friendly and it is quite steep but the fact that it's not far, makes it totally manageable for a toddler who is used to walking.

Honey wears... Hat by Blade and Rose
For more informationclick here
Find more great local suggestions and ideas for keeping kids amused (and stylish) on Steph's website
And follow on Facebook here
[parksandwalks]
Open hours
| | |
| --- | --- |
| Monday | Open |
| Tuesday | Open |
| Wednesday | Open |
| Thursday | Open |
| Friday | Open |
| Saturday | Open |
| Sunday | Open |