We are a friendly and welcoming dance school offering classes in Ballroom, Latin and Freestyle to suit all abilities and ages.
Catering from 3 years old and up, with various levels of Children's classes held each week, there is a class for everyone. As well as holding classes throughout the school year, we also hold events for our KidSteppers, such as Summer and Xmas Parties, as well as Dance Exams and Competitions.
Our classes:
LilSteps - ages 3 to 7
KidSteps - ages 8 and above
CompSteps - an additional class for those doing competitions
TeenSteps - for more mature and advanced dancers
Your first class completely free!
Classes run every Friday and Saturday. Please see the timetable below for class times.
FAQs
Q: What should my child wear?
A: Something comfortable. We do have a uniform of branded t-shirts and hoodies, which you can purchase from us when you're ready.
Q: What shoes does my child need to wear?
A: At first we recommend wearing trainers. After a few weeks we can discuss dance shoes.
Q: Does my child need to bring anything with them?
A: Yes, a water bottle!
Q: Can I stay in the class with my child?
A: We often allow parents of LilSteps students stay in the class the first week or two but generally recommend that parents don't stay in the room. However you are more than welcome to stay in the building.
Let us know if you want join in the fun
Contact Ms. FineSteps on 07852 960974 or info@finesteps.co.uk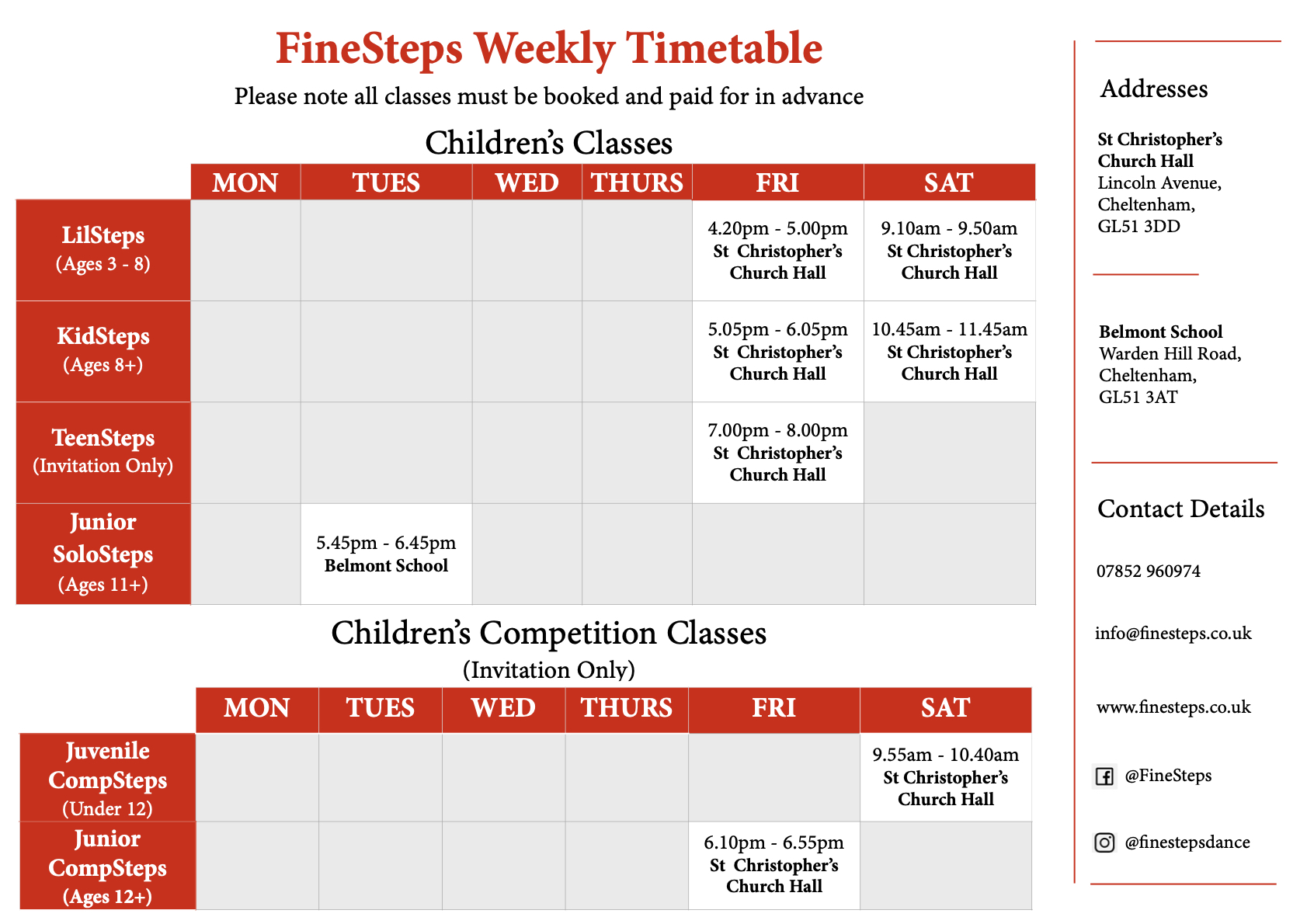 Contact details
We aim to keep the information on Cheltenham Rocks accurate but if you have noticed an error please let us know
Suggest an edit