Ages:
All the family
Under 5s
School age
Adults
Venue:
Outdoor
Cost:
Paid
Description
Late nights for grown ups, an outdoor cinema and a host of special guests - Cheltenham Science Festival is back in town! From the state of the planet, to the latest stem cell research, to the secrets of the perfect cup of tea – nothing is off limits at Cheltenham Science Festival. We'll be joined by some of the world's greatest scientists, big thinkers and comedy geniuses to help us answer some pretty big questions.
With past speakers including Brian Cox, Robert Winston, Alice Roberts and Richard Dawkins, the festival is the perfect place to pose your most burning questions and expand your mind. Join us for six jam-packed-days of debate, discovery, experiments, enjoyment and hands on fun and take a fresh look at the world around you.
"Cheltenham is really the gold standard for science festivals." Professor Lord Winston
"I'm an avid fan of Cheltenham Science Festival. It is, without doubt, the premier science festival in the country because it is supported by pretty much everyone who cares about promoting science in Britain." Professor Brian Cox
Festival Map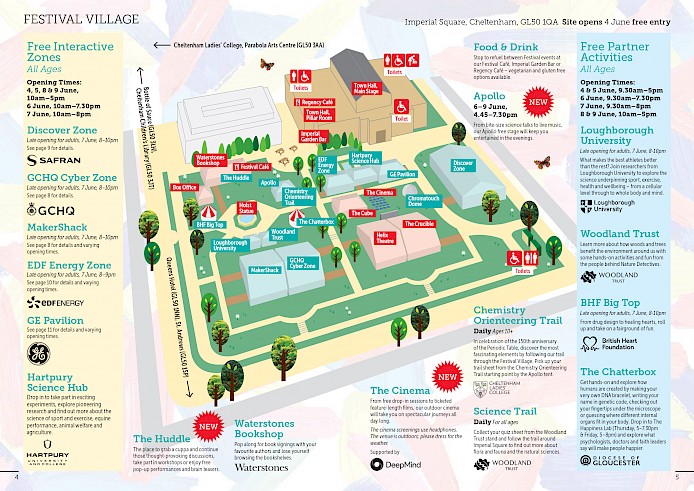 Midweek highlights include:
Diving into another year of exciting, exclusive events, the 2019 Cheltenham Science Festival explores big ideas to answer big questions.
This year, our Festival theme is devoted to Wellness For some, it is a buzzword for silly fads and conspicuous consumption. For others, wellness is the way forward in building better and healthier lives, environments and social networks.
We welcome high profile campaigners and leading experts from the worlds of sports, technology, biology, psychology and health to speak about the evidence and myths behind the topic. Come along to learn about evidence-based life hacks, citizen science and ground-breaking research or get involved in our range of active events, from mental health and dementia friends meet-ups to forest bathing.
Beyond wellness, we've worked with creative AI practice Tiny Giant to create AIDA – a neural network and the Science Festival's first ever AI Guest Curator – to curate a very special event, Introvert Narwhals. 2019 also sees the 50th anniversary of the Apollo moon landing and the 150th anniversary of the Periodic Table, both of which will be celebrated in our jam-packed programme.
Tickets are available at www.cheltenhamfestivals.com/science.
Free activities in the Festival Village, Imperial Square include:
Become a code-breaker and gather clues to unlock a cryptic challenge. Begin your quest in the Cyber Zone
Other free activities include Discover Zone, Stargazing In The Gardens, MakerShack, Cyber Trail, Large Animal Dissection, GE Pavilion, EDF Energy Zone and The Sphere
Wednesday 5th - Sunday 9th June
Times and prices vary
Be sure to keep a look out for the Urban Astronaut in the high street! (Find out more here)