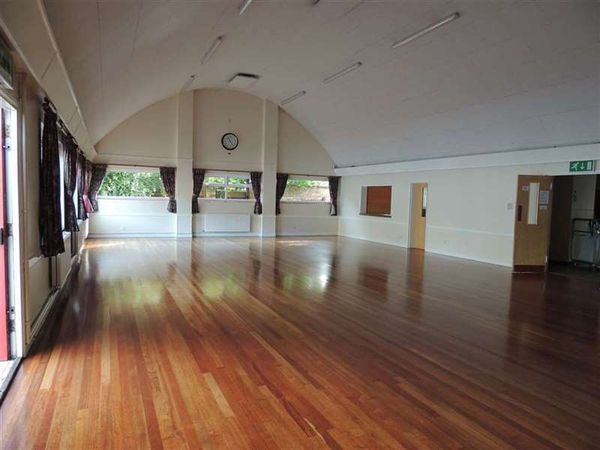 St Lukes Church Hall
Venue
Sessions:
9am - 1pm
2pm - 6pm
7pm - 11pm
Charges paid per session:
Main hall £70
Small hall £39
Discount available for kids parties and charities.
GENERAL FACILITIES:
* all entrances suitable for disabled people
* accessible toilet with facilities for disabled people, including a shower
* baby changing unit in this toilet
* a separate shower room
* the main hall and small hall are separated by a soundproof wall
* the Hall is Wi-Fi enabled with broadband Internet
* external bicycle rack
* During the evening and at weekends there are about 30 parking spaces for Hall users
* During the working day parking is more limited (about 9 spaces) , but there is a public car park and paid on-street parking nearby
MAIN HALL:
* The Main Hall is approximately 50 x 30 ft / 15 x 9m with a hardwood floor.
* An Audio Visual System with 2.7m screen and 4 speakers. For video you will need to bring a laptop computer with connecting leads (HDMI or VGA + audio).
* Audio is available from a wireless microphone (please ask) or from a mobile phone or laptop using wireless (bluetooth) or wired connection.
* An audio induction loop is provided for the hard of hearing.
* Detailed instructions (posted next to AV system)
The lower level lighting in main hall can be controlled by dimmer switches to suit requirements.
KITCHEN:
The main kitchen has a serving hatch to the main hall and offers:
* extensive working surfaces
* double sink
* modern range cooker with two ovens
* commercial cooker hood / extractor fan
* commercial-grade dishwasher
* hot water dispenser for drinks
* refrigerator
* microwave oven
* coffee percolator (80 cups) (available on request)
* crockery and cutlery (100 plus items of each)
* kitchen utensils
SMALL HALL:
* The Small Hall is approximately 30 x 20 ft / 9 x 6m and may be hired separately.
* It contains 2 tilt-topped tables (1400 x 800mm) that can be tilted and wheeled aside when not needed, and 12 comfortable chairs (6 of which can be stacked)
* The small hall can be divided into two rooms (for example dressing rooms) by means of a soft folding central partition, each room having its own door to the main hall.
KITCHENETTE:
A second small kitchenette close to the small hall has a microwave oven, coffee making facilities, and double sink, allowing users of the small hall to provide refreshments independently of the main hall and kitchen when required.
COMMITTEE ROOM:
The Committee Room is approximately 13 x 9 ft / 4 x 2.7m and may be hired separately.
TABLES AND CHAIRS:
Gopak tables
* 10 large (1830 x 760mm) (approx 6ft x 2.5ft)with trolley
* 10 small (915 x 610mm) (approx 3ft x 2ft) with trolley
* Other tilt-topped tables in small hall (see above)
Chairs
* Approx 85 fully upholstered folding chairs, with trolleys
* 12 chairs in small hall (see above)
* Additional wooden folding chairs available (by arrangement)
Other items
* Yamaha, seven octave digital piano
* Television aerial (licence needed)
Contact details
We aim to keep the information on Cheltenham Rocks accurate but if you have noticed an error please let us know
Suggest an edit