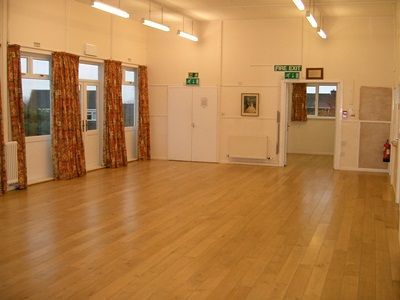 Southam Village Hall
Venue
Boasting indoor and outdoor space including a large enclosed garden and boules pitch, Southam Village Hall makes a great venue for kids and adult parties alike.
2018 Hire Charges
Hire charge £12 per hour for regulars, £25 per hour for casuals
Damages & booking deposit £100
There is a kitchen, stage, Car Park (for 30 cars), outside grass area and boules pitch.
OUTSIDE FACILITIES:
* Peaceful and picturesque village location, with no through traffic
* Parking for 30 cars
* Large enclosed garden with seating, and lovely lawn area, ideal for children's play area
* Boules pitch
* Wheel chair access
INSIDE THE HALL:
* Well maintained hall, with stage, cloakroom and easy access to the kitchen with a serving hatch
* Hall size 6.5m X12.8m, Stage size 5.5m X 3.6m
* Modern Ladies, Gents and Wheel chair accessible toilets
* Programmable stage lights available
* Joint PRS/PPL licence
* Hearing Loop fitted
* 65 comfortable chairs and tables
* Safe wooden floor
* French doors to concrete terrace 21.4m x 1.8m
* 15 outside plastic chairs
TABLES:
* 17 tables: 120cm x 60cm
* 6 smaller tables: 90cm x 60cm
KITCHEN:
* Clean and modern kitchen, recently refurbished and conforms with all health and safety regulations
* Separate door to the outside which enables food to be delivered straight into the kitchen
* Easy to use high speed induction hob with electric oven range and grill
* Warming cabinet
* Fridge and small freezer
* Wine cooler
* High speed microwave
* High speed washer
* Continuous boiling water supply
* Saucepans, pots and pans
* Plates
* Mugs, cups and saucers
* Cutlery - knives, forks, spoons plus normal cooking and serving utensils
This is a popular hall, used for a wide variety of activities, such as keep fit, dog training, first aid, alternative therapy sessions, art club as well as children's and adults parties, quiz nights and lots more.
The hire charge is: £12 per hour (reduced to £10 per hour for residents of Southam), or such increased hourly rate as may be in force on the date of your event. A separate deposit of £50.00 per booking is required (Where agreed with the Booking Secretary, a deposit for regular bookings is not required). The deposit is to cover any damage or infringement of the conditions of use, e.g. failing to leave the hall and facilities in a clean and tidy condition ready for use by the next hirer. It is returnable via BACS when the Hall has been checked after each function.
Please note that this form must be completed and returned to the above address together with the deposit
and full payment for the hire charge at least two weeks prior to the required booking date. To view availability and make a booking visit the website.
Contact details
We aim to keep the information on Cheltenham Rocks accurate but if you have noticed an error please let us know
Suggest an edit