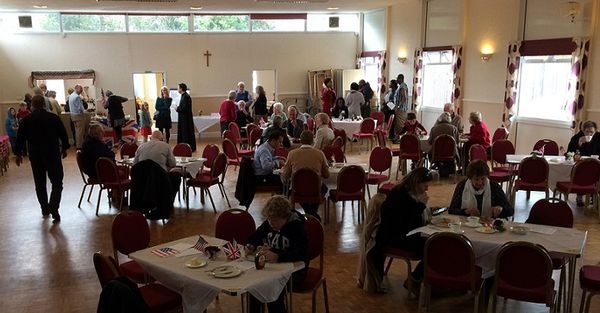 Fantastic hall with lounge and bar facilities attached if required. Conveniently located with excellent road links. Modern kitchen with larder fridge, commercial grade quick wash dishwasher, oven & hob. Large room for food preparation. Ample car parking spaces.
About the Facilities (from the Sacred Heart website).
The Hall has a seating capacity (theatre style) of 200 and is used for theatre and music shows, dance and sports classes, family parties and weddings and meetings and conferences. There are 30 tables and approx. 200 chairs available. Doors to the lounge/bar can be opened up to connect the two areas. There is a wireless sound system available for both rooms.
The Committee Room is a small room off the hall which can also be accessed independently from the car park. The large conference table will seat up to 16 people. For smaller groups this an ideal meeting or teaching space. Language study groups are regular users.
The kitchen with food preparation room attached, is off the hall and foyer and can be accessed directly from the car park in order to carry in supplies. The kitchen is free to all hirers and has an oven, hob, microwave, kettle, hot water boiler, 2 sinks, a small dish washer and considerable preparation surfaces. A large selection of crockery and cutlery is also available for users at no charge.
The Lounge can seat 50- 60 with 12 small bar type tables which seat 4 and is often used for dining, meetings and receptions. Within the lounge is the Bar, which can be hired in conjunction with the Hall and/or Lounge.
The Stage is used for performances by community groups throughout the year with tack lighting and other supporting equipment. It also serves as an excellent venue for presentations and dance recitals. There are changingMSND Production 004 rooms at the back of the stage, which generally serve the squash courts, but performers can change and prepare in this area and use the facilities. There is also an integral presentation screen and projector to use with the built in sound system.
Contact telephone number: 07340 072677.
Contact details
We aim to keep the information on Cheltenham Rocks accurate but if you have noticed an error please let us know
Suggest an edit