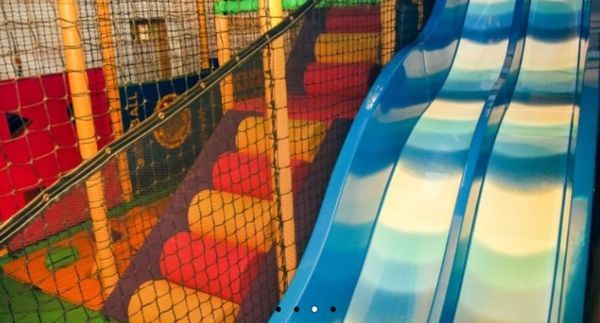 The soft play can be hired out on Saturdays or Sundays for 2 hour sessions with a window of 15 minutes either side for setting up and tidying away. Your party has private use of the soft play area (with up to 12 children able to use the equipment at any one time), plus use of the atrium which is where you can set up food, drinks and decorations. The total space can hold approx. 30.
Whilst there's no separate baby/toddler area, you are welcome to take your own equipment to put in the atrium and the soft play frame has a ball-pit at the bottom which suits crawlers. Of course, as with all the big soft plays, there's also the option to negotiate the main frame with your toddler where you can wave goodbye to any attempt of a party hairstyle, but possibly burn off all the party food you 'tested' during the set up.
Bettridge School Soft Play hire blocks available are Saturday and Sunday:
10am – 12pm
12:45pm – 2:45pm
3:30pm – 5:30pm
Approx. cost of hire £90
Being able to sort the food and drinks yourself, lots of free parking and a reasonable hire cost makes this a great value option for birthday parties or club together with other class parents for a end-of-term blow out.
Try and book a month or two in advance as slots get booked early.
Bettridge School Soft Play Parties (from the website)
Private use of our Soft Play Room
3.66m W x 6.7m L x 5.6m H consisting of 3 Levels
Included is a Large Atrium Area for Party Food and Party Games
2 Hour Slots Available
Bettridge Soft Play* Maximum Age 10 Years
* A maximum of 12 children are allowed to use the soft play room at any one time. If more children are present at the party, it is the hirers responsibility to ensure this limit is kept to
For costs and more information, please telephone 01242 514934.
Approx cost per head: £5 - £10
Contact details
We aim to keep the information on Cheltenham Rocks accurate but if you have noticed an error please let us know
Suggest an edit