May Half Term Guide: Family Events in Cheltenham
Published:
Categories
Schools out for summer..almost! Before we start planning our summer holiday calendars we have a week of fun ahead - May half term! There's so much to do right here in Cheltenham, and we've got a round up of the best events on our doorsteps from Monday 27th - Friday 31st May, as well as the weekends in between!
Happy scrolling, we suggest you grab a cup of tea first..in fact, better make that a pot!
All Week
Nature Week returns to Cotswold Farm Park, providing the opportunity to celebrate all things wild! With entertaining activities and demonstrations for everyone to enjoy, including facts from the in-house expert Nature Ranger; taking you on a journey of discovery to explore the great outdoors! Other activities include pond dipping with newts, tadpoles and pond skaters, woodland adventures, tree rubbing, leaf rubbing, twig bundling and minibeasts safari! All activities are included in the price of admission - ready, set, book! Find out more.
---
This coming Sunday - Friday, Pets at Home are running their FREE Fantastic Fish sessions, teaching 5 - 11 year olds how to care for pet fish. Booking is advised as spaces are limited, running at Gallagher Retail Park and Golden Valley stores.
---
Culture vultures - this one's for you! The Cheltenham International Film Festival offers a week of exciting and enjoyable offerings from countries a'far! The festival is dedicated to screening the films of emerging directors from around the world, aiming to discover and support filmmakers early in their career. In addition to film screenings, the festival will host a variety of master classes, workshops, panel discussions, audience and director Q&A's, talks, special screenings, parties, receptions, network events and events for students of film! Find out more.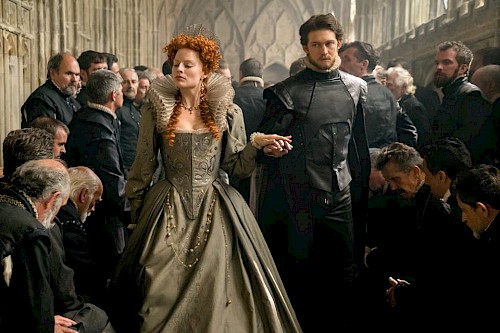 ---
If your little one has more steam to burn off than Thomas The Tank Engine, you may want to consider the Play Gloucestershire free, outdoor play scheme. Held at various outdoor parks and play areas throughout Gloucestershire during half term, Play Rangers will be providing active and creative play days for school aged children, young people and their families. Running in Cheltenham and Gloucester from Tuesday 28th until Friday 31st May from 10am - 4pm. Find out more.
---
This Weekend
'Who run the world?' I think we all know the answer there (hint; girls)! Inspire your little ones with a weekend of women in aviation at the Jet Age museum! If you've not yet visited the exhibition, now's your last chance as celebrations end this Monday. Included each day is various talks by visiting aviation experts and exhibitions covering the wonderful work of women paving the way for us to fly throughout history - there's no glass ceiling that high in the sky! Find out more.
---
The Wheatsheaf is hosting their super-popular, annual Beer and Cider festival - with lots of beer and cider, live music a BBQ! Find out more.
---
Saturday 25th May
The Bottle of Sauce Yard Sale is back this weekend - offering shoppers a chance to browse the eclectic collection of gadgets and gizmos a-plenty! Come along from 9am - 2pm to support local independent makers and small businesses with your cash, with vintage, local makers and artists, and lots of stalls to explore! There's always live music to accompany your perusing, as well as brunch, artisan coffee, cakes and pastries, breakfast baps, Dodo burgers and woodfired pizzas! Child friendly, dog friendly and free entry! Find out more.
---
You've scratched the shopping itch, but it's not quite time to purge the urge to spend just yet! Bag a few bargains at Winchcombe Car Boot Sale, running from 10am - 2pm! With cakes and refreshments on sale, as well as face painting, children's games, candy floss, donuts, coffee and milkshakes. Just 20p entry, with all proceeds to Winchcombe Day Care Centre. Find out more.
---
The bank holiday weekend fun kicks off with a day family fun - all ages welcome! Expect to enjoy two bouncy castles (one for under 5's only), a BBQ and a tea party for the kids! From 2pm - 6pm at London Inn Charlton Kings, did we mention free admission?! Find out more.
---
Hazy, summer evenings evoke the desire to stay outside and enjoy the blissful sun set and scenery (depending where you are) for as long as possible! Cotswold Farm Park's new event, Live Music at The Ox Shed, offers a chance to sit back and relax as the sun goes down, while musicians strum the evening away! Running every Saturday until the leaves turn amber and Autumn sets in, this weekend kicks things off with entertainment from Tim & Dave Acoustics. With free entry, food and drink available, and stunning views from the terrace – what more can you ask for? Find out more.
---
Sunday 26th May
Save your Sunday for the Suffolks May Street Fair - bringing back the family fun and entertainment from 10am - 5pm! With street artists, live music, boutique stalls, artisan food and gifts on offer to purchase, it's always a lovely event for the whole family. Find out more.
---
Monday 27th May
Yay! Play all day! The Cheltenham Children's Festival is a celebration of childhood, providing children and families with a welcome chance to enjoy learning and play - and it's coming to Cheltenham this bank holiday Monday! With fun and interesting activities, including interactive science, music, martial arts, drama, storytelling and more; over 25 exciting activities and performances completely FREE! Running from 10am - 3pm at the town hall, best get there early, the first 500 children through the door get a special goody bag! Find out more.
---
Tuesday 28th May
Do you have children aged 6 - 11 years old who love the outdoors and are looking for activities with a difference over May half term? Look no further than Wild Spring School! Little ones will learn a variety of outdoor skills from bug hunting to den building! Running Tuesday 28th until Thursday 30th May from 9am - 5pm. Find out more.
---
Cheltenham Animal Shelter Animal Days offer young people aged 5 - 15 years a chance to attend educational, animal-related sessions during the school holidays, to learn about responsible pet ownership and other animal related issues. Sessions are three hours long and tailored towards caring for dogs, small animals and cats. Sessions running today at 9am and 12pm. Find out more.
---
An afternoon great fun at Greystones green space ensues at this family-friendly fun day! Participate in wildlife-themed activities and crafts, and perhaps pick up a bite to eat from the cafe! No need to book, just turn up on the day between 10am - 3pm. Find out more.
---
Frozen fans assemble! The Ice Queen and the Ice Princess will be helping investigate states of matter at Cheltenham Science Group! Activities are perfect for younger children to enjoy, there's no need to book - simply pop in at any time between 10am - 4pm. A character visit is a first for the science centre so it may be busy! Entry and event is free with an annual family pass, or £2 per person (over 4) or £7.50 for a family of up to 5 people. Find out more.
---
Enjoy nature by night with students from the University of Gloucestershire BioSciences Society, for a free bat walk around the Pittville Park. You'll be armed with special bat detectors to listen out for the bats as they fly around hunting for insects! Meet at the Boathouse Cafe, which will be open especially (cafe open from 8pm - 8:45pm) for hot chocolate while you pre-walk! Find out more.
---
Wednesday 29th May
Join two secret princesses as they tour Cheltenham's best parks! The group will be stopping in each of Cheltenham's parks for approximately 20 minutes to meet lots of little ones, take lovely photos and maybe even paint a face or two - come along to one or follow them at each destination! Touring from Hester's Way Park at 10am, through Benhall, Hatherley, Montpellier parks and finishing at Pittville Park at 12pm - and the fun is free! Find out more.
---
Come along to the Wilson for a magical morning from 11am - enjoy a film screening of Coco followed by a 30 minute silent Disney disco! Aspiring musician Miguel teams up with charming trickster Hector on an extraordinary journey through the Land of the Dead. Ticket also allows entrance into 'The Art of Selling Songs' exhibition. Find out more.
See Thursday for new shows at Everyman Theatre launching today!
---
Thursday 30th May
Based on the best-selling books by Liz Pichon, this brand new story of TOM GATES is brought to you by the award-winning team behind Horrible Histories and Gangsta Granny and for the first time ever it's live on stage! This exciting and hilarious new adventure brings Liz Pichon's fantastic characters to life and is perfect for all the family whether you are a lover of the books or new to Tom and his friends! This amazing world premiere will be visiting Cheltenham from Wednesday 29th May - Saturday 1st June, with performance times at 11am and 4pm this Thursday. Find out more.
---
What if the wishes were granted? What if magic was real? Beasts, wolves, witches, frogs and fairies all join the fun in a stunning new adaptation of Grimm's most magical tales. Join award winning Box Tale Soup on an adventure for children aged 3+, featuring beautiful puppets, innovative theatre and spellbinding original music. Everyone knows even the wildest fairy tales hold a grain of truth! Performances at 11:30am and 2pm this Thursday, running from Wednesday 29th May until Saturday 1st June, tickets available to book on the Everyman website. Find out more.
---
Cheltenham's ultimate crazy golf offers indoor fun come rain or shine, perfect for the 'hole ine one' family to enjoy! With a huge restaurant, full bar and ice cream parlour - Mulligans a great all round destination with something for all ages. Discover the Lost World and unearth the underwater kingdom, in a land where the jungle meets the ocean, ferocious sea creatures and dinosaurs lurk around every corner! Find out more.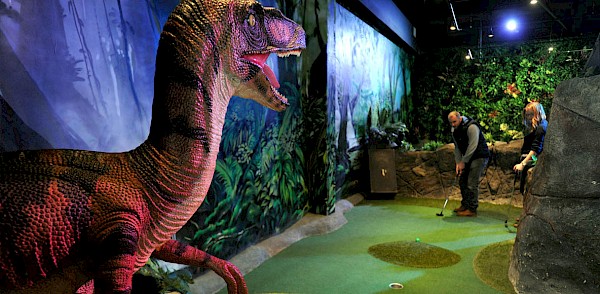 ---
Friday 31st May
Bring your little ones to the School House Cafe this morning for the chance to meet Princess Rapunzel, thanks to the Little Dreamers team! She'll be reading stories while you enjoy a sweet treat, offering the chance to meet her and take photos afterwards. Session times from 10:30am until 11:45am. Find out more.
---
Hop along to the family-friendly Community Pet Show from 11am - 1pm, hosted by SPTM Big Local and Cheltenham Animal Shelter! With pet stalls, pet care tips and animal info, not forgetting the adorable show of distinguished doggies and perfect puppies! Bring your dog along to enter the show and try the agility course! Find out more.
---
Take part in family-friendly, self-guided activities at the brand new Crickley Hill visitor hub, from 11am - 2pm! Test your knowledge with a nature quiz and get hands on with self-guided nature activities and spotter sheets. Activities aimed at primary school age children, but all are welcome to get involved! Find out more.
---
'Let's go fly a kite, up to the highest heights!' You're invited to make the most of the Cleeve Common, um, wind this afternoon! Drop in any time before 3pm for a chance to make your very own sled kite from scratch. All resources will be provided but if you have some bright coloured plastic, or old shopping bags bring those too! Find out more.
---
Saturday 1st June
Love hot chillies? Think you have eaten the very hottest? The second Cheltenham Street Chilli Fiesta is here! Up to 15 chilli producers will have stalls in Cambray Place open to browse from 10am - 5pm, in an event jointly organised by Cheltenham Business Improvement District (BID) and Chilli Fest UK. As well as a huge range of chillies, there will be chilli sauces, chilli cheeses, chilli olives, a chilli BBQ and even a chilli artist and a chilli eating contest! Find out more.
---
We've got a terrifyingly good reason to visit Regent Arcade this half term! A life-size Tyrannosaurus Rex will be bursting into June today, between 12pm - 3:30pm! You'll have a chance to meet Rex and his friendly Paleontologist and learn fun facts about your favourite Dino! Trust us, it'll be roar-some! While you're there, look out for the large dinosaur egg, it's big enough to jump in and have your photo taken in! Find out more.
---
Come and meet your local ambulance staff and look around Staverton ambulance station from 12pm - 3pm. With live demonstrations, you'll be taught basic life saving skills. Refreshments will be available to buy, as well as a face painter, inflatable fun, games and much more! Find out more.
---
Raise money for the Pied Piper Appeal charity and have a fun, family day out at Alice's Fun Day, St Margaret's Hall from 12pm - 3pm. As well as a raffle with fab prizes, there's a bouncy castle, a scrummy cake sale, tombola, face painting, henna craft and Sparkle HQ! Find out more.
---
Those with 2 feet and 4 paws (humans and their dogs) are welcome to take part in Muddy Dog Challenge today, to help to raise money for the dogs and cats at Battersea. The UK's first 2.5km and 5km obstacles can be tackled with your dog, or on your own. This year, you can also register the kids to join! Prepare yourself for a day of mud, sweat, and cheers and win a medal for yourself, and a rosette for your dog to wear with pride! Find out more.
---
It's back to Cotswold Farm Park this evening for Live Music at The Ox Shed, offering guests the chance to sit back and relax as the sun goes down, while musicians strum the evening away! This Saturday's act is Silvi & Peter (Jersey Shore) performing from 7pm. Find out more.
---
Sunday 2nd June
If you're looking for a bargain, want to turn pre-loved items into cash or just fancy a weekend stroll in a beautiful setting, pop up to Southam Car Boot today from 10:30am - 2pm, general admission from 12pm is just 20p and children enter free, thereafter it's £1. There's a fab selection of second-hand items and things you never thought you needed, but will somehow make space for! Find out more.
---
All Weekend
Which way to Wychwood guys?! Celebrating its 15th year in style, family favourite Wychwood Festival returns to our beautiful Gloucestershire countryside, with more than 100 acts performing across four stages, plus a plethora of activities offering something for all ages to enjoy! This year's lineup so far includes headliners and legendary punk band The Stranglers, 80s new romantic heroes ABC, and pop rock sensations Scouting for Girls. Running Friday 31st May – Sunday 2nd June. Find out more.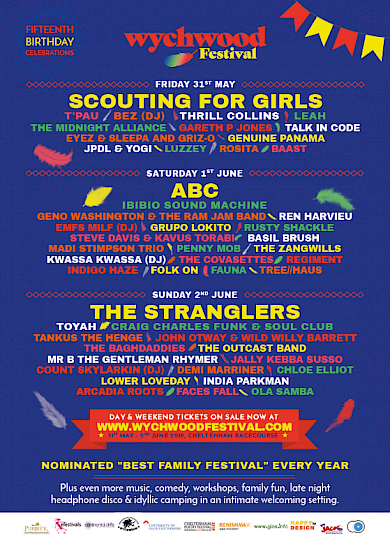 That's all folks! We hope you have a wonderful week of fun in the sun! Be sure to keep a lookout for more half term events and activities popping up on the website, and don't forget you can browse the site any time and

find activities by day, age, cost, distance and more

!