Easter Hunts in Cheltenham
Published:
Categories
We're all going on a, 'Easter holiday! Fun and laughter for a week or two!' We've certainly got some, 'egg-cellent' and 'cracking' fun for you to 'hop' along to! For now, we'll keep the puns to a minimum and get on with the facts; Cheltenham is officially rocking Easter egg hunts this year - baskets at the ready!
We're off to dig out our bunny ears and get cracking on some early egg-work, while you take a scroll through some of Cheltenham's tastiest Easter egg hunts - in date order for your hunting pleasure!
Primrose Vale Easter Trail: Come and join in the fun on the farm during the Easter holidays! Suitable for children of all ages, but most enjoyed by those aged between 3 - 15, there's an Ultimate Easter Challenge, a Spring Hunt and a Toddler Trail. Hot drinks, and light refreshments will be available too! Friday 5th April - Sunday 22nd April, 10am - 4pm daily. £6 per child and accompanying adults go free, with small Easter treat included for all children! Find out more.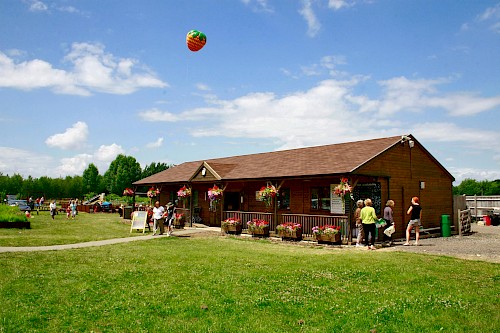 ---
Easter at Sudeley: It's time for some Easter egg-citement at Sudeley Castle this April! Get into the Spring spirit by following the chicks hiding in the castle - can you spot them all?! Hunt for all of the giant Easter eggs which have appeared in the gardens (during 13th 22nd April) for a chocolatey reward! Saturday 6th - Sunday 28th April, 10am - 5pm, ticket prices vary with activities included in general admission. Find out more.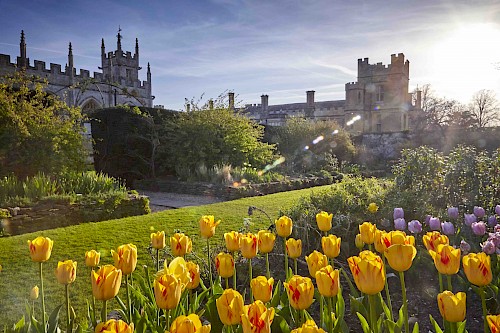 ---
Cotswold Farm Park Easter Eggstravaganza: Skip and jump into the spirit of Spring with an egg hunt around the Park, with a prize for every child! With craft activities and a puppet show to entertain the little ones, as well as all of the usual Farm Park fun – stroking bunnies and holding chicks, bottle feeding the lambs twice daily and the opportunity to feed those greedy goats! All activities are included in the cost of admission! Saturday 6th - Sunday 28th April, 10:30am - 5pm daily. Find out more.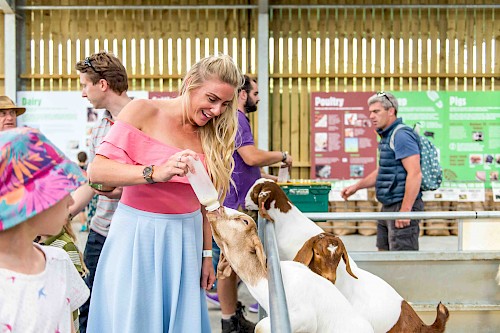 ---
Enjoy a special Easter challenge for youngsters to piece together, with the help of a grown up's mobile device at The Great Brewery Easter Hunt! Hidden around The Brewery Quarter are nine clues that when hunted down each reveal a letter. Once all nine are collected they form a secret word! When little ones have solved the Easter-themed anagram, they'll be in with a chance to win a fantastic family-friendly prize package worth over £250. Easter Hunt trail runs daily from 10am - 8pm until Monday 22nd April. Find out more.
---
Woodmancote Preschool Easter Trail: coincides with the 50 years celebrations of the school! The trail runs from 11am, with hot dogs and bacon sandwiches, cakes, refreshments, and a bouncy castle for the kiddies! The trail is £3 per child all families are welcome. Sunday 7th April, 11am - 2pm. Find out more.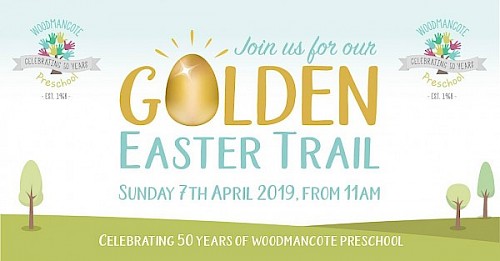 ---
Hesters Way Easter Egg Hunt: This fab, free hunt at Hesters Way Library runs throughout the Easter holidays and all ages are welcome! Find all 12 eggs and go home with your own certificate! Monday 8th - Saturday 20th April, opening times vary. Find out more.
---
Hidden Cheltenham Easter Trail: Hop along to the Hidden Cheltenham Easter Trail this half term - it's free for all! Simply pick up a map and secret instructions from The Wilson, then follow the Hidden Cheltenham trail through town to various locations. Once completed take map back to The Wilson to receive your Easter prize! Monday 8th - Monday 22nd April, 9am - 5pm daily. Find out more.
---
Court Farm Easter Egg Hunt: The farm is opening up their barns during Easter half term so you can meet some of the animals, while doing a special Easter Egg Hunt! Go on a tour of our farm, finding Easter clues as you go! Interact with some new born lambs, feed pet goats, collect freshly laid free range eggs, meet some young calves and piglets! Wednesday 10th - Thursday 18th April, 10am - 3:15pm daily, £6 per person. Find out more.
---
Charity Easter Eggstravaganza: Sue Ryder Leckhampton Court Hospice invites you to a fun-filled, family event including a treasure hunt, Easter biscuit decorating, face painting, glitter tattoos, and traditional childhood games! Meet Mary Poppins, sing a long with the Music Man, enjoy pizza, hog roast rolls and home made cakes! Entry fee of £2.50 (under 12s free) to include one Treasure sheet. Sunday 14th April, 11am - 2pm. Find out more.
---
Snow Sisters Springtime Special: Yay! The Snow Sister's will be visiting Smokey Joe's for a morning of Springtime fun! They'll be singing songs, making crafts, reading stories and taking lots of lovely photos! Included in the ticket price is two hours of crafts (Easter egg decorating, bunny mask making and Easter wreaths), a sing-a-long, storytime and lots of wonderful photo opportunities. Tuesday 16th April, 10:30am - 12:30pm, £4 per child. Find out more.
---
Crickley Hill Easter Eggstravaganza: Join Crickley Hill Reserve for nature based crafts and activities, including an Easter quiz! Activities are suitable for all ages, with the café open as usual. Wednesday 17th April, 11am - 2pm. Find out more.
---
Cadbury's Easter Egg Hunt: Spring has sprung at Chedworth Roman Villa, with the Cadbury Easter Egg Hunt returning for an 'egg-citing' weekend of exploring and eating! Bunny's been up to his old tricks again! He's hidden his precious choccy treats at Chedworth and it's up to you to find them! With a few clues to crack along the way, it's time to join the hunt and enjoy the Easter fun! Friday 19th - Monday 22nd April, from 10am - 4pm. Hunt Cost: £2.50, normal admission fees apply. Find out more.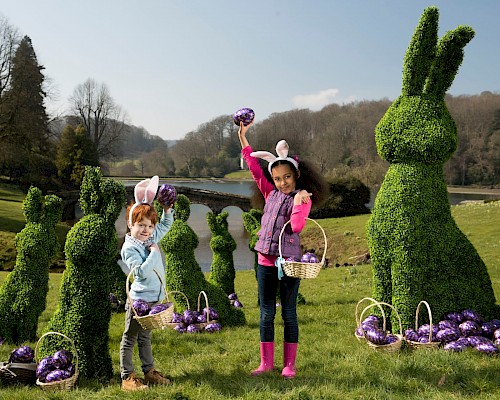 ---
Glenfall House Easter Family Day: Join Glenfall House on Good Friday for a fun-filled afternoon. An outdoor easter egg hunt in the glorious gardens, lots of prizes, children's activities, food and drink! Tickets will cost £2.50 for children and free for adults, all proceeds will go to Macmillan. Friday 19th April, 10am - 5pm. Find out more.
---
Cleeve Common Easter Trail: Drop in any time of your allocated hour time slot to follow the trail of clues on a circular 1 mile walk around the common. Answer all the questions to find your way back and collect your prize! The trail will take about 1 hour to complete and all proceeds will go towards supporting our work on Cleeve Common. Adults free, children £2.75. Friday 19th April, 1pm - 3pm. Find out more.
---
For the first time ever, Brasserie Blanc is hosting a fabulously fun, children's Easter Sunday celebration! From 10:30am, children can enjoy an egg-cellent egg hunt and a beautiful bonnet making competition! Find out more.
---
The Slaughter's Easter Egg Hunt: The Inn is hosting an adventurous children's egg hunt over the Easter holidays, with a fun-filled afternoon exploring the beautiful spring gardens and lots of face painting! Follow the clues around the garden, before finishing with a delicious chocolate treat! Saturday 20th April, 11am - 3:30pm. £5 entry with optional £2 for face painting. Find out more.
---
The Great Easter Egg Trail: Cobalt Supporters is teaming up with Maggie's to hold The Great Easter Egg Trail on Saturday 20th April in Sandford Park. Promising to be an egg-citing, fun-filled event for all ages, children will be able to follow the clues to collect a chocolate prize at the end. The Easter Bunny who will be making an appearance and there's the chance to win prizes throughout the afternoon! The trail will take place from 1pm until 4pm, entry is £2.50 per child. Saturday 20th April. Find out more.
---
Hatherley Park Easter Egg Hunt: The annual Easter Egg Hunt in Hatherley Park returns! Bring your basket and hunt for hidden eggs in the park, with juice and homemade cakes on sale. Saturday 20th April from 2pm - 4pm. Find out more.
---
The Plough Easter Fun Day: One of the most popular, annual events in Cheltenham - it's the Plough's Family Charity Easter Fun Day! With an Easter hunt, face painting, charity cake sale, Easter-themed crafts and even more to keep the kids entertained! It's also free! Saturday 20th April, 3pm - 5pm. Find more.
---
Nuffield Easter Egg Hunt: If you go down to the woods Easter Sunday, you're in for an Easter themed rock hunt! From 11am - 3pm, beautifully decorated rocks will be hidden in Benhall Park Woods, to be found and swapped for chocolate eggs! Sunday 21st April from 11am, £2 per person. Find out more.
---
GWSR Easter Eggspress: On Easter Monday, catch one of the GWSR 'Easter Eggspress' specials! Climb aboard a train at Cheltenham Racecourse for this 'eggsellent' event, taking place at Winchcombe Station. As you travel through the beautiful Cotswold countryside, you can try one of the free children's quiz sheets with Easter puzzles and games, with all of the free Easter activities based there. Look out for the Easter Bunny when you arrive on the platform and take part in an Easter Egg Hunt around the station, with a small prize if you find them all! Tickets prices vary. Monday 22nd April, Find out more.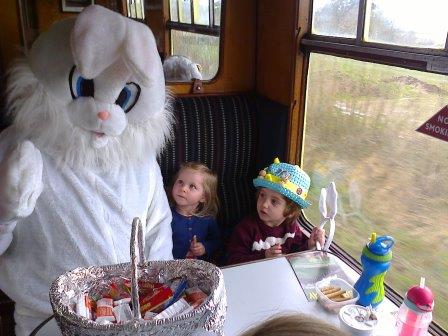 ---
That's all 'yolks'! Be sure to keep a look out for more Easter events and activities popping up on the website soon, and don't forget you can browse the site any time and find activities by day, age, cost, distance and more!